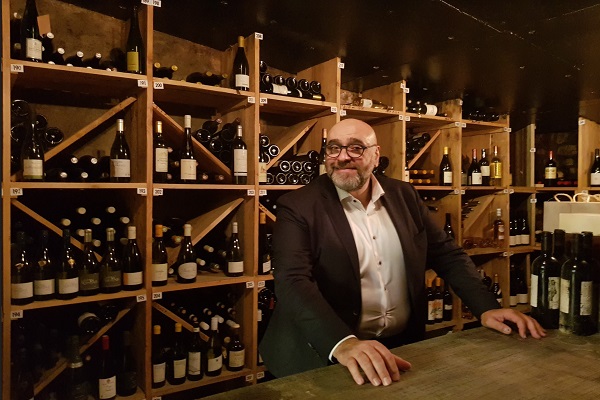 Séverin Laface, founder and director of the Robin du Lac Concept Store; Credit: Jazmin Campbell
The Robin du Lac Concept Store in Luxembourg-Hollerich yesterday unveiled its latest culinary addition during a press visit: Come à la Rôtisserie Steakhouse & Grill.
The story behind Robin du Lac began in 2008 when its director, Séverin Laface fell in love with the idea of a concept store in the premises of the former Muller-Opel car garage on 70 Route d'Esch. In May 2010, Robin du Lac was brought to life. An organic bakery and Knopes family-run coffee shop (run by siblings Fabien, François and Catherine) soon followed in 2012 and 2013 respectively.
In September 2014, Séverin Laface fulfilled his life-long dream of creating a culinary space inspired by Italian traditions (reflecting his own roots): Come à la Maison was born. As Séverin Laface highlighted, a lot of investment has been put into the restaurant over the past five years to provide a homely atmosphere with a special touch.
2015 saw the birth of La Focacceria, a cafe serving freshly prepared foccaccia, homemade pasta, salads and sandwiches (all using authentic Italian products), and La Cave à Vin, a wine cellar boasting over 700 wines from Italy, France, Luxembourg and beyond. La Focacceria also delivers to offices in the district at lunchtime.
The following year, Come à la Cave, a wine bar and lounge, and the Sweet Factory were unveiled. The latter is no longer in operation, although it was replaced in 2018 by Come aux Delices, which offers homemade ice cream from France (it has a contract of exclusivity with Barbarac Glacier Saint Tropez in Luxembourg), along with a range of cakes and other desserts.
In 2017, Robin du Lac moved its home decor shop down a floor and expanded the newly-named showroom, Robin by Sherwood. The same year saw Robin du Lac add an EGO hair salon and the Vesti il Gusto boutique, a store selling Italian fashion (some of which is exclusively sold here in Luxembourg). The following year saw the arrival of Clever Golf, offering golf coaching, the Elita Lemoni beauty institute, Come aux Delices and two other restaurants: the Come à la Mer fish restaurant and Come à la Montagne, a Swiss chalet-inspired space serving fondue, raclette, crepes and, more recently, meat dishes cooked in a charcoal oven.
In February 2019, Séverin Laface launched Come à la Pizza, where Italian pizzalogue Francesco and his team prepare and cook authentic Italian pizzas by hand daily. The flour used includes high-quality organic and gluten-free flour. At the same time as the pizzeria, Robin du Lac opened a beer bar, Come à la Bière, offering 120 beers from across the globe including both Battin and Diekirch, as well as Italian artisan beers and a handmade French beer called "Saint-Nabor 1916 Ambree à la sauge" from Brasserie Limonaderie Artisanale du Pays de Saint-Avold. In June 2019, a sushi corner was added. Fabio Catusqui, an award-winning Japanese sushi chef, is responsible for freshly preparing sushi daily.
This month saw the arrival of Robin du Lac's latest restaurant: Come à la Rôtisserie Steak House & Grill. This new culinary space offers a selection of labelled meats and terroir from some of the best farms in Europe and beyond. The restaurant works with livestock breeders who are ethically and socially responsible. Products include Wagyu beef, Luxembourgish T-bone steak, Tomahawk Di Fassone and Irish dry aged T-bone. Come à la Rôtisserie is now open from Thursday to Saturday between 19:00 and 22:00.
In addition to its range of bars, shops and restaurants, Robin du Lac regularly organises and hosts events, such as its upcoming Brazilian Week (8-11 October 2019) and the "Life Tapestries series" art exhibition by Agata di Masternack (10 October to 30 November 2019).