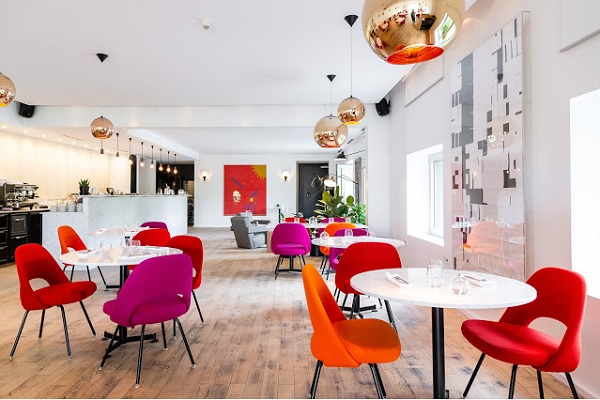 TWO6TWO restaurant;
Following the change of chef at TWO6TWO in Strassen from 1 September, Chronicle.lu recently got the opportunity to visit and sample the menu which bears the hallmark and signature of its new head chef.
TWO6TWO is located at 262 Route d'Arlon in Strassen, just a stone's throw from the Belle Etoile shopping centre. Access is either through the SMETS store, or from the side of the shop, up the stairs to the first floor. First impressions are of a trendy and chic eatery, bright with wooden floor and red and white furnishings, spaciously laid out. During the daytime there is a panoramic view out over the fields which adds to the relaxing atmosphere inside. We counted seats for 40, with tables set for 2, 4, 6 and 8 diners.
It was surprisingly busy - it has garnered a good reputation very quickly, with Baptiste Heugens having created a simple formula based on French cuisine and dishes that are set apart from the norm. Apart from veal, beef and pigeon, the menu has different fish options, and a vegetarian one too.
The choice may not be huge, but that makes ordering easy. While one is mulling through the menu - a choice of the Menu du marché (€30 for 2 courses or €35 for 3 courses) or A la carte - this is an ideal time to take one of the many cocktails as an aperitif.
With bread on which to nibble, the home-made butter is delicious thanks to the special ingredient of shallots blended through it.
We tried a number of dishes, including an introductory appetiser of fried calamar in breadcrumbs with homemade horseradish sauce, followed by a starter of Smoked salmon with gravlax (a mustard sauce). The fish dish was langoustine with artichoke and delicate pasta, with the meat dish of pigeon with fois gras - truly succulent! To finish off, we had a raspberry and blueberry dessert with raspberry sorbet, and a vanilla mousse and chocolate dessert sandwiching a coffee sorbet. All petite portions but the quality of the French cuisine shone through every mouthful.
Baptiste Heugens's philosophy, borne from working in top Michelin-starred restaurants, is based on fresh cuisine highlighted by simple products and precise detailing, inspired by a gourmet culinary tradition that is adapted to new nutritional requirements.

TWO6TWO is localted at 262 route d'Arlon, Strassen, L-8010 Luxembourg (see http://two6two.blogspot.com/ for further details)