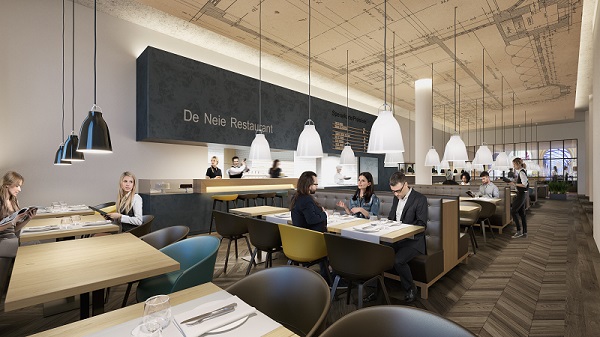 Quai Steffen;
Following a call for tenders for the renewal of the concession, Luxembourg's railway operator (the CFL) has announced that the restaurant "Le Quai Steffen" is being installed and will open for business at the Gare de Luxembourg in November.
Quai Steffen, a new Steffen Group brand, will delight the palate of lovers of quality products. This is the ideal culinary address for organising a business lunch between two TGVs or for those in a hurry who want to take a takeaway, or those who like to stroll in this future new place of gastronomy in Luxembourg.
The special ambition of the CFL and the Steffen Group has been to develop the customer experience as much as possible by making sure that each and every guest feels important and welcomed, and is served with dedication. Quai Steffen offers a restaurant with table service and also a space dedicated to takeaway sales.
The Quai Steffen menu offers a wide variety of dishes ranging from local delicacies, organic and vegetarian taste ranges, and avant-garde products to traditional dishes. The menu will evolve constantly based on customer demand and the Quai Steffen production system will remain resolutely artisanal.
The restaurant offers 100 indoor seats and, in summer, guests can enjoy a beautiful terrace with 80 seats. On the takeaway side, counter sales offers fresh products such as morning pastries and sandwiches, salads, as well as hot meals throughout the day.
The opening of the catering space is scheduled for November 2018 (the official opening of the restaurant "Le Quai Steffen" will be in early 2019). The restaurant will be open 7 days a week in continuity with railway services.
As part of the ongoing redevelopment of the station area, the CFL is involved in the transformation of the station area for which large-scale renovations are carried out in collaboration with the Service des Sites et Monuments Nationaux.