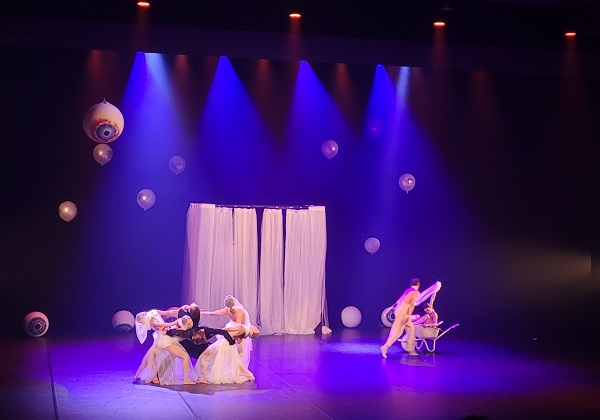 "Don Juan" by Luxembourg Ballet; Credit: Jazmin Campbell / Chronicle.lu
Chronicle.lu had the opportunity to attend the premiere of Luxembourg Ballet's latest production, "Don Juan", at CAPE – Centre des Arts Pluriels Ettelbruck on Saturday evening; the performance kicked off CAPE's 2022/23 season.
This contemporary "made in Luxembourg" adaptation of Molière's masterpiece featured dancers from the Greater Region as well as international ballet stars such as Sergii Kryvokon, principal dancer of the National Opera of Ukraine, as Don Juan himself, and Natalia Matsak, Honoured Artist of Ukraine and prima ballerina of the National Opera of Ukraine, as Don Juan's wife, Donna Elvira. It also featured: Oleksii Busko, former principal dancer of Kiev Modern Ballet, as Don Juan's servant Sganarelle; Ekaterina Provalinskaya, a ballet artist of the National Academic Bolshoi Opera and Ballet Theatre of the Republic of Belarus, as Charlotte, a peasant and another object of Don Juan's "affections"; Artem Shoshyn, leading soloist of Kyiv Modern Ballet, as Pierrot, a peasant and Charlotte's fiancé; Victoria Tvardovskaya, Luxembourg Ballet co-founder and soloist dancer, as peasant Mathurine. Susanne Wessel, Sofia Binetti, Laura Guessan, Carine Baccega and Alice Brunner starred as various brides.
Spectators accompanied the young aristocrat and notorious seducer of women, Don Juan, in the days leading up to his dramatic death. The music, lighting, sound effects, props and costumes paired with the dancers' synchronised and seemingly effortless movements added up to a graceful yet humorous interpretation of Molière's 1665 comedy (itself based on the Spanish legend of the eponymous womaniser) – an interpretation which aimed to bring the timeless character of Don Juan to a modern audience.
According to Luxembourg Ballet, this production, created under the company's artistic director and co-founder, Volha Kastsel, targeted the two main impulses of contemporary "Don Juanism", namely hedonism and the endless pursuit of the reproduction of happiness: "Our Don Juan is a humorous demonstration of how a popular misconception that happiness can be multiplied for the sake of pleasure controls our everyday life".
The opening performance was met with a big round of applause from the audience. A second performance took place on Sunday 2 October 2022.
For more information about the 2022/23 season at CAPE, visit: https://cape.lu/.