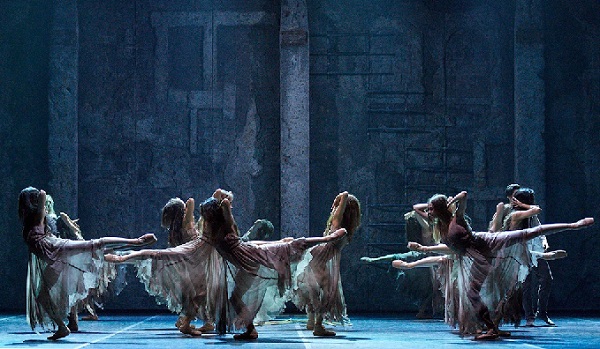 Giselle; Credit: Laurent Liotardo
The English National Ballet will bring the renowned "Giselle" to Luxembourg this June, with performances scheduled from 27-29 June 2019 at the Grand Théâtre, Luxembourg-Limpertsberg.
Luxembourg audiences will soon have the chance to see Akram Khan's reimagination of Giselle, one of the best-known romantic ballets of all time. Indeed, Khan has long shared a successful history with the Grand Théâtre and this time its main stage will host Khan's largest project to date, featuring 46 dancers from the English National Ballet and live music from the Orchestre Philharmonique du Luxembourg.
Khan has given the iconic story of love, betrayal and redemption a haunting reinterpretation with stunning costumes and set by Academy Award-winning designer Tim Yip ("Crouching Tiger Hidden Dragon"), a dark adaptation of Adolphe Adam's original score by composer Vincenzo Lamagna, dramaturgy by Ruth Little and lighting design by Tony Award-winner Mark Henderson.
Critics have exalted praise on this production, calling it a thrilling masterpiece and a classic of the 21st century that successfully marries both the contemporary and the classical with a stunning result. Set among a community of migrant workers, who have been cast out of their jobs in a failing clothing factory, Albrecht is from a privileged group of landlords and factory owners. To match the setting, the ballet's heroine has undergone profound change, but what remains is the starkly opposed themes of love and betrayal, of reality and the supernatural, which give strength to the narrative. The exploration of the underlying issue of power is one that exposes the gulf of money and class that separates the aristocrats from the peasants and that dooms lovers Albrecht and Giselle's life to one of tragedy.
Giselle is the first full-length ballet choreographed by Khan; he previously collaborated with the English National Ballet on the award-winning piece "Dust". Among other awards, Giselle recently won the Olivier Award for "Outstanding Achievement in Dance", the Critics' Circle National Dance Award for "Best Classical Choreography" and the Tanz Magazine Award for Production of the Year.
The performances will take place in the theatre's Grande Salle on Thursday 27 and Friday 28 June at 20:00 and on Saturday 29 June at 15:00 and 20:00. The ballet lasts one hour and 35 minutes (plus entr'acte).
Tickets cost between €15 and €25 for adults and €8 for young people. Kulturpass is also welcome. Tickets are available at http://www.theatres.lu/SAISON+2018_2019/Danse/_36+ENGLISH+NATIONAL+BALLET+_+AKRAM+KHAN+_+OPL-fbclid-IwAR0LNVs20op1zo7aCP9fVElqvupRcLoETMmoA%25252d0Fd6HUBARMp9jBNWavBlY-p-20003358.html.