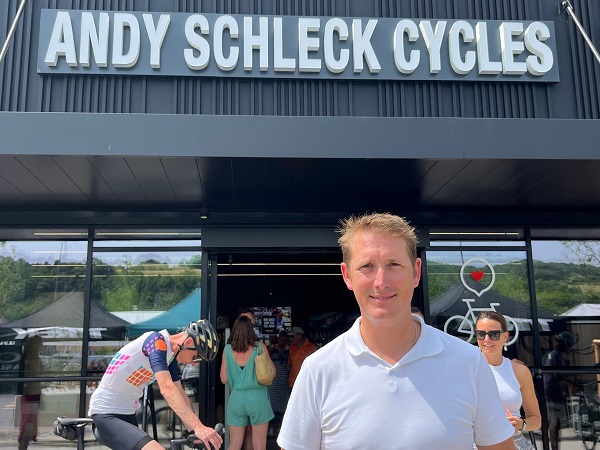 Credit: Chronicle.lu
On Saturday 18 June 2022, Andy Schleck Cycles held an Open Day at their new shop in Mertert (2 Route de Wasserbillig), just over six years after the opening of his first shop, in Itzig, following a glittering career as a professional road cyclist during which he won the Tour de France in 2010.
In addition to arranging a fun cycle in the morning, the car park had a children's bouncy castle, the FNEL scouts had a barbecue stand and there was a beer tent. Shortly after 15:00, the official speeches took place, with Andy Schleck introducing his team and the Mayor of Mertert, Jérôme Laurent, wishing Andy and his team good luck.
Chronicle.lu attended the Open Day and sat down with Andy Schleck for an interview.
Chronicle.lu: Congratulations on opening your second shop. It is six years since you opened in Itzig. How have those six years been for you and your business?
Andy Schleck: Obviously when we started in the beginning it was not at all sunshine; if you open a new store like we did in Itzig, with the ambitions we had to become, my goal was to have the best service. I might be big-headed, but to have the best service in the world is my goal, really to have the best customer service and the best customer care. This was a huge statement; but with huge statements come big investments and I had to cope with that. The first two years were kind of difficult; we did nice sales but it was not like it should be, but then there came a point where we broke even and from there on the team grew, sales grew and customers grew. We have an opportunity here as I do believe that the bike market still has a bright future and I believe that cycling has a bright future, so I said "Why not open a second place where there is no real bike shop nearby, and this was on the Moselle, a place where people ride?". And now we will have the second challenge to make this shop great as well, with the same attitude and same philosophy as Itzig, and not just a place to go in to buy bikes but a place where you can talk cycling, where you can go and live that passion and bring that passion closer to the people. This will now be the next year's challenge to make it here. The thing is that I now know how to do it; the good thing is that I know how to train my people. It should be a different place than Itzig, but the philosophy should be the same. These guys already know how it works because they learnt quite quickly from me; they all started in Itzig because I want them to see there the philosophy, how we care about the clients and customers. We opened four weeks ago: I want that they know how to work together from a slow opening, and now we move forward.
Chronicle.lu: When you had the fire in Itzig in September 2016, that must have been very disappointing. How did you recover from that set-back?
Andy Schleck: In life, we fall to get up again, and this is the same in business. It was of course a difficult situation but I never was scared that we wouldn't continue. We bought new bikes, we cleaned the place, we repaired the place and we up and running again two months later.
Chronicle.lu: How did you get on during the pandemic, once you could reopen? We understand that other shops (at least) experienced significant shortage of bicycles and delays in getting stock.
Andy Schleck: Let's say, when the pandemic hit, it was the most difficult, psychologically, for me. We had to close the shop, but it was always going to continue. Every day the world changed. There was a lockdown and this was something we had never dealt with before, so I closed the shop. I said I was going to be there twice a week, for himself and to answer emails. After one week I called Benoit, my Shop Manager, and I said "Benoit, you need to come and help me as I can't do it all, there are so many demands [requests]" and "What should we do?". Technically we could deliver bikes; people are at home, bored, but they can ride bikes. So why not do something? It was not just to sell bikes, but we were giving something social back to people. After two weeks, Benoit was just taking the orders and I was the only one delivering the bikes to Luxembourg with a big truck [van] and going from address to address, spending twelve to fourteen hours on the road [every day]. Every week, one [staff] person more came [back to work] and we took our private bikes to deliver bikes. And then we could open the workshop if there are technically two people with masks repairing bikes. We said that people can bring their bikes, but we need to open the trunk [car boot], we take the bikes and repair them and put them back again [in the car boot]. We didn't make money with it but we could survive. But the demand was increasing and people could realise "we could go to Andy and he can repair my bike" and they could do something during this period instead of just sitting at home. That period was incredible with a lot of work, but we managed to do some business at least and then the day when we reopened the shop was absolutely bananas. We only let in five people a time and we had a queue of a few hundred metres in front of the shop. Basically, we had to upscale the team and everybody earned good money as there was not one hour overtime every day, but five hours every day. But there came a point where I had to calm things down. We were closed on Monday and Tuesday. We didn't open before 10:00 as we needed time to clean up the shop, to prepare stuff, and basically we were open only Wednesday to Friday until we could see, because we could not could follow up with our standards to do customer service, But, slowly, the pandemic was gone, came back, was gone, came back but today it's still there, somehow. But today I believe that people learn to live with it and, basically, all the customers we got through the pandemic, which was a lot, came back to the shop because they were happy with us.
Chronicle.lu: And how did the government's "Primes" (or grants) to encourage people to purchase bicycles affect your business?
Andy Schleck: I don't see necessarily the motivation for the cashback on bikes. If the government wants to be more sustainable in the future, to go more towards the green side and use cars a little bit less, and get people on light mobility, what better tool is there than the bike? So, if they give €8,000 towards an electric car, they can also do €600 on a bike. This is my opinion. I think that the boom with bikes would have been there without COVID as well, because I see how the e-bike evolution goes. Certainly COVID had this advantage for us as people realised that "we don't necessarily need to be from 08:00 - 18:00 in the office and go home, and the only off-time is when we travel; we can have a really nice time at home". Biking with the family is the most social thing you can do; with friends it is the most social thing. I also think that about health aspects as many people thought about themselves, taking more care about their health, and the bike can be a tool for that as well. The subsidies certainly helped; I do think that it helped sell entry-model bikes for €1,200 to €1,500 where we could also see that they came in because of the government subsidy and said "OK, we need a bike now". You don't just buy an electric car because you get an €8,000 subsidy, there is still a big loss. Also, I don't think that someone who buys a bike for €3 - €4 - €5,000 or a e-bike cares too much about it.
Chronicle.lu: We know that originally you were not a great fan of electric bicycles, but when we were talking at the opening of your first shop in 2016, you told us that you had been converted and you loved them, in particular electric mountain bikes. How have sales of electric bicycles evolved in the past six years? What percentage of sales do they now represent?
Andy Schleck: With us, 40% of the annual turnover is from electric bikes, which is not a lot if you compare it to every country around us. So that tells me that there is a lot of work to do. I am a big fan of electric bikes; I just think what is the beauty of cycling. Before, for me it was torture, I trained, I had to respect my heart rate, I had to respect my weight. So, basically it was work. I enjoyed doing it but it was tough. Today, I ride my bike to be outside, to be in the nature, talking with friends, talking business with business partners on the bike is the best way to do it, but when you are maybe overweight, it is a tough sport to do. Many people are maybe a little too heavy and they can enjoy that with a normal bike because then as all they just have to do is go on [along] the Moselle river and the e-bike allows everybody to do it, young and old, heavy or not heavy. This is just the first aspect. Then I see [people] commuting to work. If you have 15ks to do, why do you take the car? Why don't you get a bike, an e-bike, and you can enjoy the ride and you are coming to work awake. I really think it opens up the spectrum of people riding bikes to everyone; before, it was really restricted to athletes.
Chronicle.lu: How many people do you now have working in your two shops?
Andy Schleck: We are a team of eighteen. When I grew, I had to hire people. I need an accountant, I needed someone just to do delivery, to build bikes, so we are a group of now eighteen people.
Chronicle.lu: How will you spread your time yourself over the two shops?
Andy Schleck: This is difficult because I have a lot of activities at the moment, maybe a little bit too much. For the moment, I just stick my head down and I go by road on my time trial bike. Eventually, something will change because I'm travelling again a lot; after COVID, everything is going at 200 km / h and I started some different activities as well on site which are time-consuming but which are fun as well. I try to be here as much as possible, bit I don't want to leave Itzig too much. For me, Benoit was my right-hand man, we try to split it that either he is here (and I am in Itzig) or he's in Itzig and I am here, so we try to split [our time]. It's not on a regular base, but I also know that if I want to have my philosophy here, I must be present because I am the leader of this team and I need to teach them my way of how to do things.
Chronicle.lu: Will you continue to cycle to work every day?
Andy Schleck: It's a long time that I haven't done that, which I feel ashamed of, as often I'm in Itzig and I need to come here, or I need to go to the city to a meeting, and go back and forward. But, if I have certain days, I do commute with my bike and I really enjoy it.
Chronicle.lu: Do you use the same bike evey day?
Andy Schleck: No, I change between the road bike and the gravel bike for the moment.
Chronicle.lu: Do you think you may be opening a 3rd shop in six years from now, elsewhere in Luxembourg or even abroad?
Andy Schleck: It depends how it goes now. I do believe, and it might sound a little bit arrogant, but I really do believe I know how to do it now. I do think I have a great customer base; this needs to grow now. I'm not thinking too much in the future; I don't exclude it as I do think that there's not many who do the service we do and I do believe in the future that customer care and service will be the success of shops in general, and not just bike shops. While this is my main priority and if, in six years' time, there is an opportunity, it might be less, it might be more, to open a third shop, maybe somewhere in the south of Luxembourg, I might give it a go.
For more information about the opening of Andy Schleck's first shop in Itzig, see Chronicle.lu's video interview from 2016: https://chronicle.lu/category/shopping-1/15486-andy-schleck-cycles-video-interview