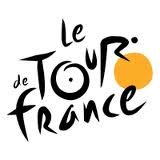 On Monday, the 3rd stage of the 2017 Tour de France rolled through Luxembourg, from north to south, entering from Belgium and leaving into France; along the 212.5km route from Liège to Longwy, Luxembourg residents line the route, adorning it with the Grand Duchy's two flags and shouting encouragement to the cyclists as the sped by.
Stage 3 was at least dry, in stark contrast to the first two days of cycling which resulted in a number of crashes which has ended the tour for a number of riders.
Wales' Geraint Thomas wore the Yellow Jersey of the race leader through the Grand Duchy and will wear it again tomorrow, Tuesday, when the tour departs Mondorf-les-Nains for Vittel in the Vosges.
Stage 3 was won by Peter Sagan (SVK), just pipping Michael Matthews (Australia) and Daniel Martin (Ireland). Overall, Geraint Thomas (in 8th place today, just 2 seconds behind the winner) leads with Britian's Chris Froome in 2nd place, just 12 seconds adrift. Michael Matthjers is in 3rd (same time) with Peter Sagan in 4th place (at 13 seconds). Luxembourg's Ben Gastauer is in 97th position overall, exactly 3 minutes behind the leader.