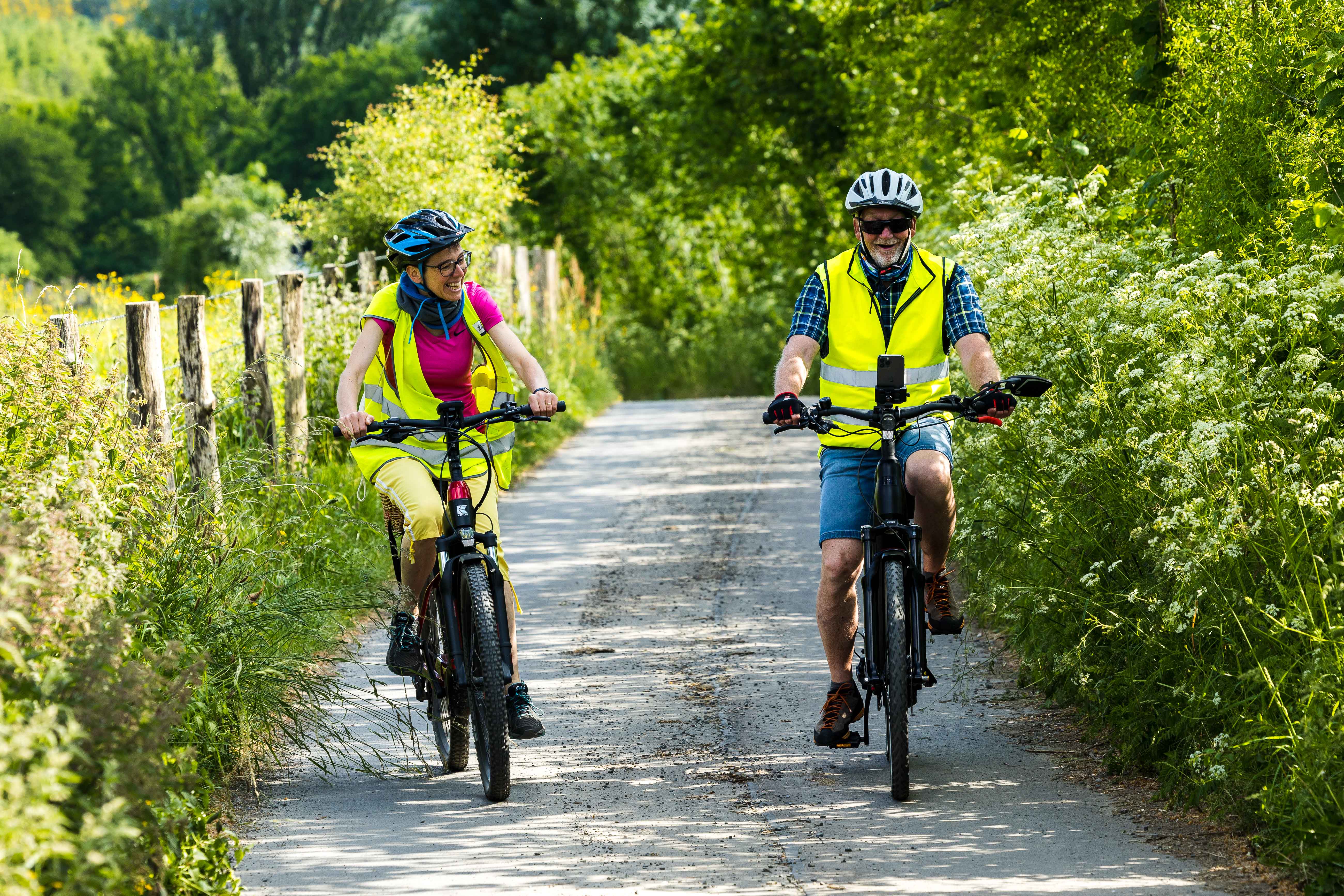 new eBike Tour; Credit: copyright Laurent Blum
The Naturpark Our and Éislek (aka the Luxembourgish Ardennes) have announced details of a new e-bike tour that was inaugurated last weekend.
After last year's success, an extension of the first electric bike tour in the Éislek was developed for this year at the initiative of the municipality of Weiswampach under the slogan "Leave the church in the village!".
This 2nd circuit connects the municipality of Weiswampach to Ouren in Belgium, with local churches again at the centre of this circuit. Over a distance of about 28 km, the path passes by seven village churches and invites cyclists to stop to visit the buildings. The starting point is at the church of Holler (close to Weiswampach). This was also the starting point of the first tour "Leave the church in the village!" across the municipality of Troisvierges.
The two courses are distinguished by the colours of the signaling panels (cyclists of the first tour are oriented towards the red beacon; the tour that crosses the commune of Weiswampach up to Ouren is distinguished by blue markings).
The concept of church bike tours already exists abroad, for example, in La Roche-en-Ardenne under the title "de clocher en clocher en Ardenne". As cycling tourism has already developed in the north of the country due to the Vennbahn and the connection to the RAVeL cycle path network, it seemed appropriate, both from a touristic and cultural point of view, to propose such thematic circuits in the Éislek region. In March, the municipality of Weiswampach also started to put in place new signage for the network of its cycle paths in the municipality. The cycle paths must connect all the localities of the municipality between them. A liaison with neighbouring municipalities is also planned.
The small churches of the village of Éislek are often the oldest and most beautiful buildings in their village and combine the symbolic religious world with art. The two "Leave the church in the village!" cycle paths combine the pleasure of culture and the pure landscape in the Parc naturel de l'Our.
The electric bike circuit "Leave the church in the village!" was inaugurated on Saturday 3 June as part of the "Weekend of the Open Churches".