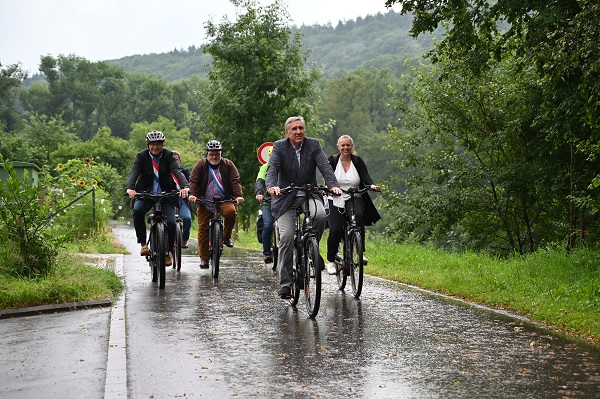 L-R: Michel Reiland, Mersch alderman; Michel Malherbe, Mayor of Mersch; François Bausch, Minister of Mobility & Public Works; Carole Dieschbourg, Minister of the Environment, Climate & Sustainable Development; Credit: MMTP
Luxembourg's Deputy Prime Minister and Minister of Mobility and Public Works, François Bausch, and the Minister of the Environment, Climate and Sustainable Development, Carole Dieschbourg, inaugurated the PC14 cycle path between Mersch and Schoenfels on Tuesday.
The first section of the PC14, with a total length of 3.1 km, connects Schoenfels with the centre of Mersch. In Schoenfels, cyclists pass through the castle park. In some places, the cycle path crosses biotopes with the help of engineering structures. Following the request of the Nature and Forest Agency, gratings were integrated into the superstructure of the structures to allow light to pass through so that vegetation can develop there.
This new section has a width varying between 2.5 and 3.5 m. In order to protect the trees along the PC14, the width of the path has been partially reduced in several places.
At a place called "Kannerduerf", the cycle path passes above the River Mamer on an existing structure. The rehabilitation of this structure will be carried out in the future. The cycle path passes under the A7 motorway to join the existing cycle path in Mersch.
Works, which were interrupted several times because of the pandemic. began in December 2018 and ended in June 2021. The total cost amounts to €2.16 million (including tax).