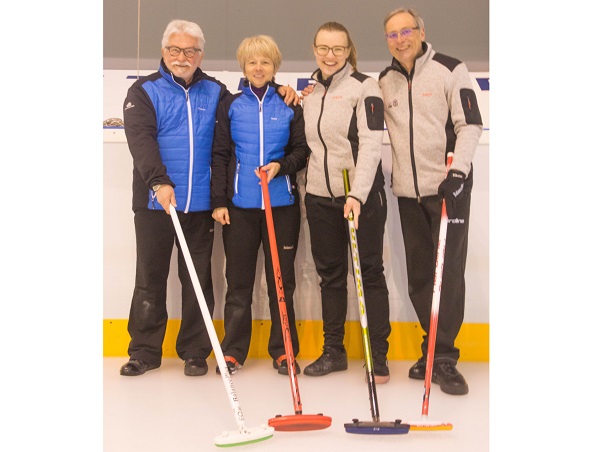 Winners: Curling Club PARPAN (L-R) Thomas Hauser; Uschi Hauser; Evelyn Terzer; Eric Messerli; Credit: Curling Club Luxembourg
Curling Club Luxembourg has named Curling Club PARPAN (Lenzerheide, Switzerland) the winner of the 45th edition of its Coupe de l'Amitié (friendship cup), which took place at the Kockelscheuer Ice Rink over the weekend.
The tournament was once again played at a high international level, with players from more than ten countries having taken part.
The players of Curling Club PARPAN ultimately took the trophy home in the final which they won 8-7 after a hard-fought eight ends.
The Luxembourg teams had to struggle with ups and downs but were still able to achieve satisfactory 6th, 8th and 9th places respectively.
Final ranking:
1. PARPAN (Switzerland)
2. ONCE UPON A TIME (Denmark)
3. BESANÇON (France; 2019 winner)
4. GLASHOCH RANGERS HAMBURG (Germany)
5. CURLY BEAVERS (Canada / Netherlands)
6. GOOD LUX (Luxembourg)
7. CHARLEVILLE-MÉZIÈRES (France)
8. NEW ANGELS + OBSTACLE (Luxembourg)
9. LAST CURL (Luxembourg)
10. FRANKFURT (Germany)
11. DUSSELDORF BUTTONERS (Germany)
12. C. BAMSE ERFURT (Germany)
The following players represented Curling Club Luxembourg:
- GOOD LUX: Karen Wauters, Philippe Giltaire, Lukas Jirousek and Shiori Kuboki
- NEW ANGELS + OBSTACLE: Marco Étienne, Volker Beba, Virginie Hansen, Carole Remesch and Maja Bjerg-Petersen
- LAST CURL: Dan Kelly, Claude Schweitzer, Alex Benoy, Candice Richards