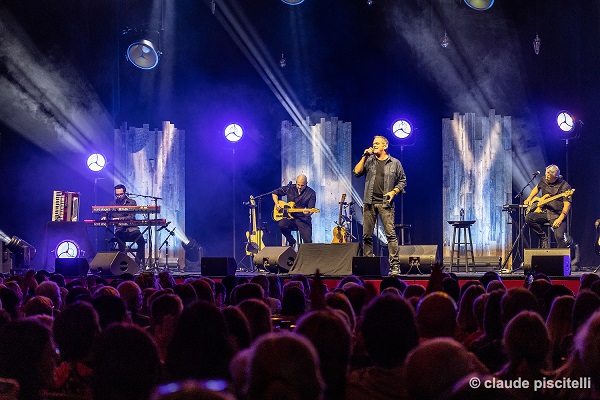 Garou performing at Chapito, Casino 2000 in September 2022; Credit: Claude Piscitelli
Apart from its core business of gaming (primarily slot machines, roulette and blackjack, as well as electronic gaming), Casino 2000 in Mondorf-les-Bains is a renowned venue for entertainers (including a number of tribute artists, comedy acts, etc.) with audiences coming from around the Greater Region; more than 300 concerts and events are held at Casino 2000 every year.
While the Chapito (opened in 2011) can seat 1,200 audience members, the Purple Lounge (opened in 2006) is a more intimate setting with a capacity of 120. Diners can chose between fine dining at Les Roses, the auberge style of the Purple Lounge menu and the self-service Snack Bar.
Chronicle.lu recently had the opportunity to sit down with Christian Arend, who is responsible for Food and Beverage, Hotel and Entertainment at Casino 2000, to discuss the venue's post-COVID-19 plans.
Chronicle.lu: How has performing live at Casino 2000 been since the easing of COVID-19 restrictions?
Christian Arend: We had an important programme as of March 2022, due to the fact that we had to reschedule all postponed shows. After a slow start things were gearing up and we had some sold-out events (Michaël Gregorio, Tony Carreira, Gasteuil, Ferrari...).
Now after eight months, we see a trend: there is the Champions League with well known artists – these shows perform very well, whatever the age group. Next, we always had many shows let's say from the Professional League and some shows from the Regional League.
This has changed, there are only the Champions and then all the "others". And these "other shows" are more difficult to sell today, [it] seems like the customers are more selective. Especially elder people are still limiting their visits because of COVID fears.
Chronicle.lu: Is the planning and organisation of live performances now any different to before the pandemic? Pre-show preparations, during the show, audiences, acts?
Christian Arend: The planning has evolved, yes. We are trying to book shows as much in advance as possible, due to the fact that many shows need more time to fill up. The organisation on the spot has been reviewed to be as efficient as possible. During COVID, we put an important programme in place concerning our hygiene standards. A higher cleaning frequency, dispensers at the customer's disposal, ventilation efforts, etc. are still kept.
Chronicle.lu: During the summer, did your audiences welcome returning to indoor concerts? And has there been a difference in appeal between larger concerts (e.g. at the Chapito) and smaller ones (e.g. at the Purple Lounge)?
Christian Arend: We do not propose a show programme during the summer months, too many people are off on vacation. And there are many outdoor festivals, so it is not so easy to get artists who are available. What we discover these last weeks, people are more willing to amuse themselves. Ticket selling is up week by week, the trend for "last minute" booking is confirmed.
Chronicle.lu: Which acts have you lined up to perform in the coming weeks / months? Are they based mainly in and around Luxembourg? Or maybe from further afield? Have such demographics changed from before the pandemic?
Christian Arend: It is really a mix of all destinations. Between Garou (from Canada), Elodie Poux (from France), Adrienne Haan (from New York – Luxembourg)... all these gigs were sold out. But we are always trying to reserve a special place for local artists. One example is Joss Den Hellen (17 November), a stand-up artist who lives basically next door. The bigger the artist, the further the destination where he comes from.