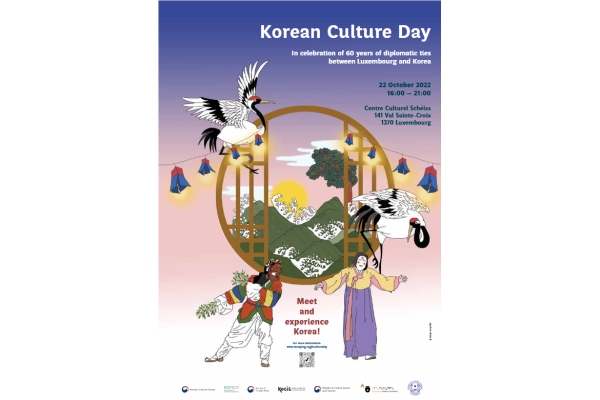 Credit: Korean Cultural House in Luxembourg
Korean Cultural Centre Brussels, in collaboration with the Korean Cultural House in Luxembourg, is organising a series of cultural events in commemoration of the 60th anniversary of the establishment of diplomatic relations between the Grand Duchy of Luxembourg and the Republic of Korea, commonly known as South Korea.
On Saturday 22 October, the Korean Culture Day festival is taking place at Centre Culturel Scheiss, 141 Val Sainte-croix, 1370 Luxembourg, from 16:00 to 21:00, which includes K-pop music, Korean food and drinks, and display of traditional costumes.
On Tuesday 25 October 2022, a classical music recital by Korean violinist Clara-Jumi Kang and pianist Sunwook Kim is taking place at the Philharmonie.
On Thursday 27 and Friday 28 October, four Korean films will be screened as part of Korean Film Festival under the theme of "Remembering the future".
Finally, on Saturday 29 October 2022, Kim Bock Hee Dance Company will perform at CELO in Hesperange. Choreographer Kim Bock Hee is a well known choreographer and creative dancer in the Korean modern dance world.