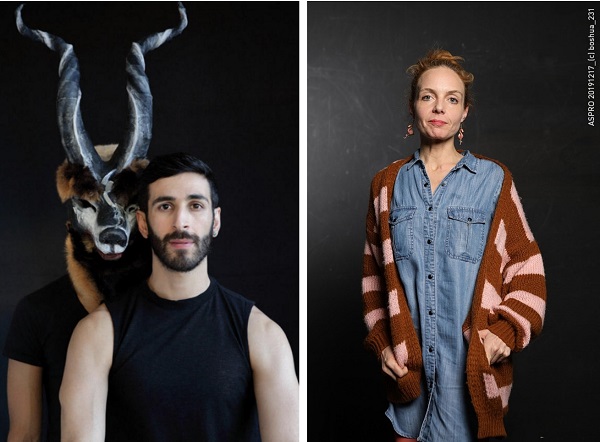 Saeed Hani and Anne Simon; Credit: Kultur | lx - Arts Council Luxembourg
Kultur | lx - Arts Council Luxembourg has announced the selection of two local artists, choreographer Saeed Hani and director Anne Simon, for this year's artistic residencies in Berlin and Rome.
Kultur | lx, continuing the commitment of the Fonds Culturel National (FOCUNA) to its partners, has taken over the Choreographic Research Residency at Uferstudios in Berlin (Germany) and Research and Creative Residency for Architects, Architectural Researchers, Illustrators and Authors at Academia Belgica in Rome (Italy).
Following the calls for applications launched in December 2021 by Kultur | lx, two juries met and designated Saeed Hani and Anne Simon as laureates for the Uferstudios and Academia Belgica residencies, respectively.
Uferstudios residency
In collaboration with the cultural service at the Embassy of Luxembourg in Berlin, Kultur | lx is offering a six-week choreographic research and production residency at Uferstudios. This residency abroad encourages choreographers to immerse themselves and network within the Berlin art scene, contributing to the long-term development of their professional career.
Following a call for applications, the jury, made up of Ainhoa Achutegui (neimënster), William Cardoso (choreographer and 2021 laureate of the residency), Mathis Junet (TROIS C-L - Centre de Création Chorégraphique Luxembourgeois) and Carole Lorang (Escher Theater), decided unanimously to grant this residency to Saeed Hani for his project entitled "Inlet".
The jury considered that, at this point in his career, Saeed Hani's work would benefit from a long period of time dedicated to research. This is expected to enable him to "deepen his choreographic approach to his own themes of power and individual freedom and the relationship with the body and with others". Uferstudios is also expected to "offer him the space and time he needs for his research, in the heart of Berlin, a city whose history and sociology resonate with Saeed Hani's work".
Saeed Hani was born and raised in Syria and received his early training at the Higher Institute of Dramatic Arts in Damascus. In 2015, he moved to Trier, Germany, where he performed with various dance companies, including Z-Art Dance Company (Luxembourg) and toured in the Grand Duchy, Belgium, France, Finland and Germany.
He founded his own company HANI DANCE in 2016 and moved to Luxembourg in 2021 where he became a member of the TROIS C-L – Centre de Création Chorégraphique Luxembourgeois platform.
Academia Belgica residency
Kultur | lx and the Luxembourg Embassy in Rome, in partnership with the Academia Belgica, Centre for History, Arts and Sciences in Rome, are offering a research and creative residency for authors, screenwriters, playwrights, illustrators, architects and architectural researchers for at least one month and up to two months. The aim of this residency is to help architects, architectural researchers, illustrators and authors in the broadest sense immerse themselves in the Roman environment and to encourage networking within the local art scene and with other academies and research institutes, contributing in the long run to the development of their professional career.
Following a call for applications, the jury, made up of Prof. Florian Hertweck (Architect dplg, University of Luxembourg), Claude Kremer (Centre National de Littérature - CNL) and Christine Muller (playwright and director, 2021 laureate), preselected and presented two applications to the Academia Belgica, which awarded its residency to Anne Simon for her project: "Well-behaved Women seldom make history".
The jury praised both Anne Simon's career and her project for Rome. They noted: "Addressing and challenging traditional representations of power, gender roles and expectations in all her plays, Anne Simon is putting forward a theatre project on the complex and magnetic character of Agrippina". Anne Simon "questions the very fact that her story was written by men and based on prejudices that stereotypical education may have triggered". They continued: "Through interviews with sociologists and historians, she wishes to revisit Agrippina's status as a 'victim of story-telling'. Being immersed in the Roman environment, following her heroine's footsteps would certainly be beneficial for her play writing".
Moreover, Anne Simon expressed the desire to use the opportunity of her stay in Rome to "connect both with the academic world, to deepen her knowledge on her chosen topic, and with the world of live performance, in order to encourage new collaborations with a view to staging her play". The jury added: "The stay at the Academia Belgica seems to have come at the right time for Anne Simon who could fully benefit her play project and her work in general".
Anne Simon studied Drama and Theatre at Royal Holloway, University of London. She continued her professional training at the Théâtre National du Luxembourg and the Ruhrfestspiele Recklinghausen (Germany) as assistant director and stage manager. Anne Simon has since established herself as a regular in most of Luxembourg's theatres and has been working internationally since 2009.
She is a regular collaborator and member of Luxembourg-based theatre collectives Independent Little Lies and Volleksbühn. During the COVID-19-related lockdowns, she has been experimenting with virtual live theatre with the latter.