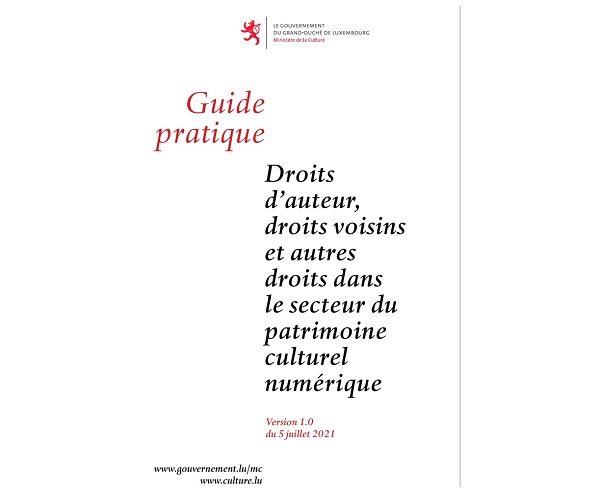 Guide pratique: Droits d'auteur, droits voisins et autres droits dans le secteur du patrimoine culturel; Credit: MCULT
Luxembourg's Ministry of Culture has just published a practical guide on copyright, related rights and other rights in the cultural heritage sector.
The guide was developed within the framework of the work of the digital cultural heritage competence network, initiated by the Culture Ministry and bringing together experts from cultural institutes in the field of digital cultural heritage. It was mainly designed as a didactic tool for those in charge of the online publication of digital cultural heritage collections.
Divided into ten chapters, the guide covers the different issues that may arise when cultural institutions or other entities with cultural heritage collections seek to open up online access to their digital collections to the public. It addresses the main challenges related to intellectual property rights and other rights concerned with a view to equipping its readers with the tools adapted to the development of the policies necessary to face the challenges of digitalisation.
Copyright and related rights occupy an important place in our market economy. Specific protection is granted to authors, performers and producers to encourage them to create, perform and produce works by allowing them to be remunerated for their creativity, their work or their investment. At the same time, the collection, protection and dissemination of cultural heritage productions are deemed essential to preserve the knowledge and memories of our culture for the public.
This new practical guide is part of the overall approach of a cultural policy that promotes mediation and audience development. The Culture Ministry emphasised that the enhancement and transmission of our cultural heritage through digital technologies (cornerstones of the coalition agreement and the cultural development plan 2018-28) form the basis of an accessible and inclusive culture. Digitalisation is considered a fundamental tool for ensuring the circulation and accessibility of cultural and heritage works to as many people as possible, while promoting the development of the variety of cultural goods and services available.
The 38-page Guide pratique: Droits d'auteur, droits voisins et autres droits dans le secteur du patrimoine culturel can be downloaded (in French) free of charge from the website of the Ministry of Culture: https://mc.gouvernement.lu/fr/publications/guide-manuel/minist-culture/guide-droits-auteurs.html.