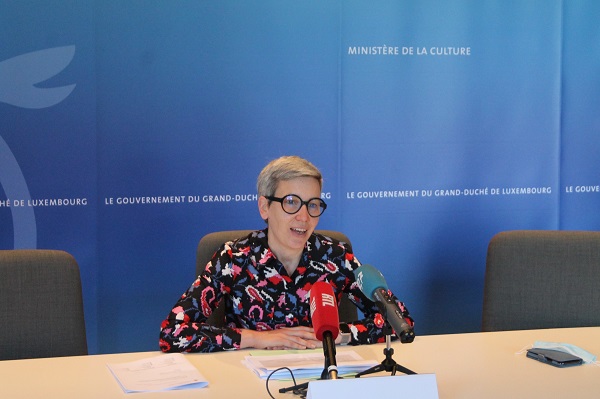 Sam Tanson, Luxembourg's Minister of Culture; Credit: MCULT
Luxembourg's Minister of Culture, Sam Tanson, recently took stock of the "Neistart Lëtzebuerg - Culture" programme and presented the new grant system aimed at supporting creation.
Endowed with €5 million, the Neistart Lëtzebuerg - Culture programme was launched on 27 May 2020 to support Luxembourg's cultural sector in the face of the COVID-19 pandemic. The programme's twelve compensatory measures have reached more than 220 beneficiaries, both institutional and individual.
"The pandemic has exacerbated the vulnerabilities of the cultural sector", noted Culture Minister Sam Tanson. "Through the Neistart programme, we have been able to introduce both timely and sustainable support, meeting the needs of the industry in the short term, while providing prospects for the future".
More specifically, 29 approved structures / associations received a total of €1,499,500 in compensation for financial losses resulting from the cancellation or postponement of events or the closure of institutions between 14 March and 1 June 2020.
In the framework of financial aid for the revival of culture and artistic creativity:
- one artist collective received €300,000 for a residency-mission in the annexes of Bourglinster Castle, over a period of three years;
- eighteen projects by artists, authors or associate commissioners in thirteen cultural establishments received a total of €416,000 to host an artist or aritst collective in residency for a minimum period of six months;
- eight music commissions were allocated a total of €48,600 following the launch of a second call for musical compositions for the 2020-21 season (with the participation of eight new partners);
- a total of €147,700 was allocated to 31 artworks by fifteen artists acquired from eight Luxembourg galleries for the collection of the Ministry of Culture;
- a total of €107,270 was allocated to 23 artworks acquired from 22 artists for the Culture Ministry's collection;
- ten creations by eight professional theatrical structures received a total of €200,000 for the writing commission of new original dramatic works;
- seven projects received a total of €71,675 in financial assistance for researching and setting up new performance formats. This aid was designed for professional performing arts teams established in Luxembourg in order to encourage them to produce, over the next 36 months, shows that initiate new creative paths and alternative staging formats while respecting sanitary restrictions;
- seventeen projects from six beneficiaries received a total of €58,424 in compensation for additional financial costs resulting from the live audiovisual capture of an event due to the an institution being closed to the public;
- a total of €861,395 was allocated to "home residency" grants for 117 independent professional artists / authors and cultural workers.
In addition, twelve projects from nine beneficiaries received a total of €720,630 as part of the support scheme for investment and upgrading of regional museums. Another four projects from four beneficiaries received a total of €559,805 in support for investment and upgrading of cultural tourist sites.
Grants to support artistic creation, development and retraining
Introduced in 2014, the law related to the promotion of and grants for artistic creation and retraining are subject to an update and a adaptation to the realities of the field. By adopting the related draft Grand-Ducal regulation, on 2 June 2021, Luxembourg's Government Council opened the way to a reform of the grant system, the objectives of which are as follows:
- to promote research, creation and development by allowing authors and artists to have the necessary resources to create works and carry out various activities related to their artistic process throughout their career;
- give authors and artists the opportunity to contribute to the development of their disciplinary field by exploring advanced resources and technologies and facilitate creative activities that can lead to production and dissemination.
At the same time, the administrative procedures will be simplified and in the future will be done exclusively by electronic means, this going hand in hand with a reduction in the files requested from candidates, as well as with a precision of the submission deadlines: the requests, limited to two per calendar year, must be introduced in compliance with at least one of the three submission deadlines published annually by the Ministry of Culture.