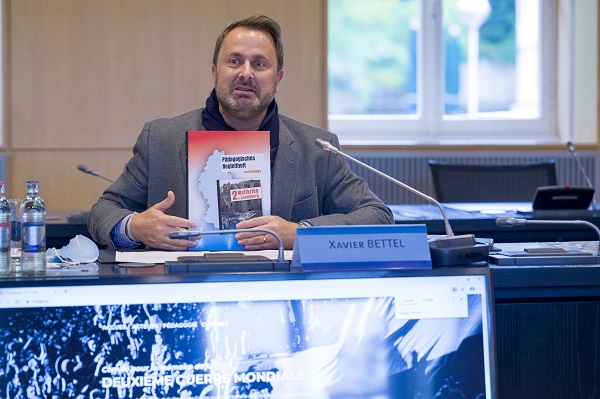 Luxembourg's PM Xavier Bettel; Credit: © SIP / Jean-Christophe Verhaegen
The Committee for the Remembrance of the Second World War (Comité pour la mémoire de la Deuxième Guerre mondiale - CM2GM) has published a multilingual educational brochure on the Second World War in Luxembourg and launched its new website: www.cm2gm.lu.
Since its creation in 2016, the CM2GM has brought together representatives of resistance fighters, forced enlisted men and victims of the Shoah in a common mission. The committee has been fully involved in the organisation of the commemoration of the World War II, particularly by raising awareness among young people of the tragic events that took place more than 80 years ago.
During a press conference on Friday, Luxembourg's Prime Minister Xavier Bettel and the executive office (Claude Wolf, Guy Dockendorf, Joseph Lorent) of the CM2GM presented a brochure published in four languages ​​(Luxembourgish, German, French and English) on the Second World War in the Grand Duchy. This publication is the result of the joint work of three groups within the committee with the help of specialists in history. The brochure is accompanied by an educational guide prepared for young people by the Zentrum fir politesch Bildung. They also presented the new CM2GM website, which was set up by the committee with the financial support of the Oeuvre de Secours Grande-Duchesse Charlotte.
The brochures and the educational booklet can be downloaded from the website www.cm2gm.lu or can be requested from the Service de la mémoire via email: daniel.bousser@me.etat.lu.