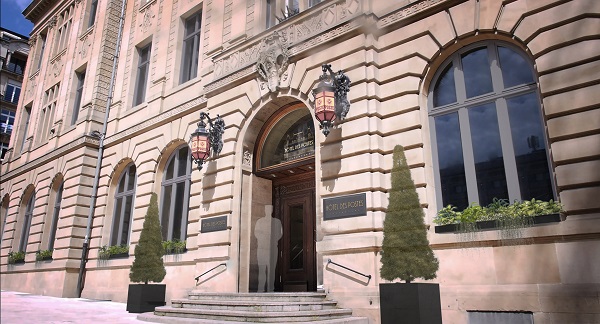 Below (L-R): Philippe Baudry, Groupe ARTEA President; Claude Strasser, POST Luxembourg Managing Director; Lydie Polfer, Mayor of Luxembourg City; Geraldine Dohogne, Interior Designer at Beyond Design; Credit: (Above) POST Luxembourg; (Below) Jazmin Campbell
On Tuesday afternoon, POST Luxembourg presented at a press conference the concept of the new "Hôtel des Postes" project, which will see the renovation and redevelopment of this historic building at the heart of Luxembourg City.
Claude Strasser, Managing Director of POST Luxembourg, unveiled the new architectural concept planned for Hôtel des Postes, in the presence of Lydie Polfer, Mayor of the City of Luxembourg, and Philippe Baudry, President of Groupe ARTEA – a Paris-based firm with expertise in artistic direction, management and planning expert and with whom POST Luxembourg has partnered for the development of this project. Geraldine Dohogne, the interior designer behind the new concept, was also present.
The historic Hôtel des Postes, located on Rue Aldringen in Luxembourg-Ville, dates to 1908-10 and has since been the subject of several extensions and modernisation works. In March 2018, the building was classed as a national monument and is situated in a UNESCO protected site.
This new transformation phase aims to preserve and respect the cultural and historic value of the Hôtel des Postes, whilst breathing new life into and adding a modern touch to the building and opening it up to the public.
More specifically, the new project foresees the transformation of the underground space into a spa with a fitness centre, although one part will remain exclusively available to POST employees. The ground floor, which is the heart of the project, will see the interior court completely redeveloped into a space for different services: a restaurant, a bar, shops and beauty services and the hotel reception. The first floors will be converted into the reception of a lifestyle hotel, the details of which will be revealed once the building permit is obtained. The penultimate floor will house a coworking space featuring meeting rooms, shared offices and individual offices for business clients. The function of the top floor is yet to be confirmed.
Works will begin at the end of this year and completion is expected for 2023.