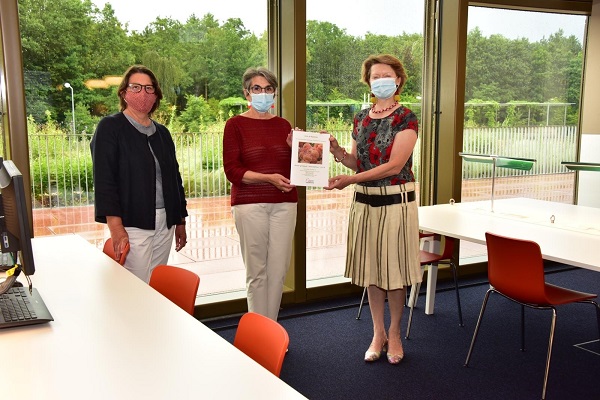 L-R: Dominique Faber, grandniece of Anne Beffort; Monique Kieffer, Director of BnL; Claudine Als, President of Patrimoine Roses pour le Luxembourg asbl; Credit: BnL
The non-profit organisation Patrimoine Roses pour le Luxembourg has presented the baptism certificate of the Anne-Beffort rose bush to the National Library of Luxembourg (more widely known by its French acronym BnL).
In commemoration of the 100th anniversary of the appointment of the first female professor in Luxembourg in 1919, a rose bush dedicated to the memory of Anne Beffort was baptised in 2019.
Luxembourg's rose heritage, after a 100-year slumber similar to that of Sleeping Beauty, is now in the process of returning to the public's minds, hearts and gardens. By officially handing over the baptism certificate for the rose bush, bearing eight original signatures of godparents and witnesses, Patrimoine Roses pour le Luxembourg aims to raise awareness among the public and the collective memory of the importance of the prowess of Luxembourg rose growers 100 years ago as well as the current rose revival.
The BnL features many works and documents in its collections which bear witness to the history of the rose in Luxembourg and beyond since the 18th century. This new certificate will be added to the Luxemburgensia collection, which already contains the 2018 Anise Koltz Poète rose patent and which will be enriched in the years to come.