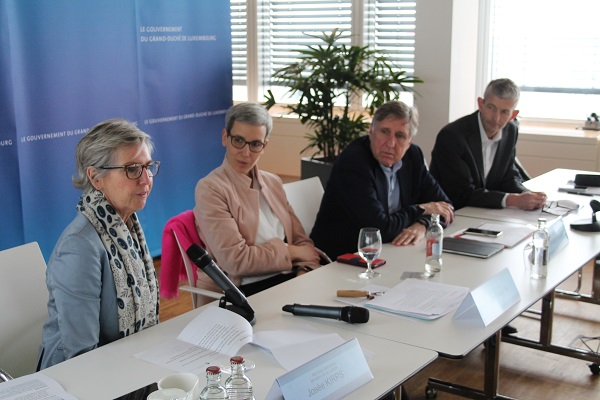 L-R: Josée Kirps, National Archives Director; Sam Tanson, Culture Minister; François Bausch, Minister of Mobility & Public Works; Luc Dhamen, Fonds Belval Director; Credit: MMTP / MC
Luxembourg's National Archives building set to open in Esch-Belval will have 56 depots across 220 m2.
On Thursday, Luxembourg's Deputy Prime Minister and Minister of Mobility and Public Works, François Bausch, and Minister of Culture, Sam Tanson, presented the details of the new National Archives building in Belval.
On this occasion, François Bausch specified that the new building will allow the administration as well as all the depots to be brought together on a single site, which is currently not the case. The new National Archives will have more storage capacity as well as improved storage conditions in terms of temperature, security and compartmentalisation.
The building will have 56 depots across 220 m2 consisting of 46 depots totalling 91,500 linear metres of shelves, four repositories for the preservation of large format documents, three repositories for the preservation of library documents, onw air-conditioned deposit for microfilm preservation and two newspaper depots.
For her part, Sam Tanson affirmed that following the modernisation of the legislation relating to archiving in 2018, Luxembourg is acquiring, with this new building, infrastructures adapted to an appropriate management of information and archives at the national level. This is considered essential for the maintenance of the collective memory of Luxembourg and for the proper functioning of the public administration and the democratic system.
The compact, functional and energy-efficient building has been designed to fit into the existing urban context in Belval. The new location is connected to public transport as well as to cycle paths, facilitating public access to this reception and meeting space, cultural and educational space and consultation space.
The different operating areas of the building are made up as follows: 1,300 m² of public space; 12,250 m² of storage space; 1,150 m² of administrative space; 1,000 m² of logistics space; and 300 m² of technical space.
Works on the new building are expected to begin from mid- to late-2021 and should last 36 months. The current budget is €77,270,000 (tax included).