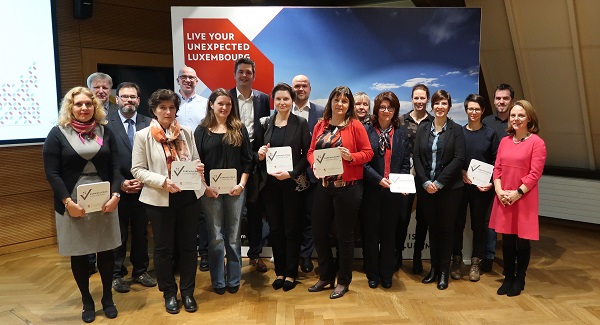 Credit: MCULT
The new "EureWelcome" label design and mobile application launched in Luxembourg on Wednesday.
The EureWelcome label, which is awarded by the General Directorate of Tourism of the Ministry of the Economy in cooperation with Info-Handicap, is based on the concept of "Design for all". It is awarded to tourist establishments or events in recognition of their efforts in terms of accessibility and hospitality aimed at meeting the needs of all visitors, including those with disabilities, the elderly and families with children.
Luxembourg's Minister of Tourism, Lex Delles, and Minister of Family and Integration, Corinne Cahen, yesterday presented the label's new logo and mobile application, aimed at enhancing this inclusive approach, at Neumünster Abbey.
During his speech, Lex Delles said that the Luxembourg tourism sector is vigilant about the specific needs of people with disabilities, the elderly and families. In this context, the Minister of Tourism stressed that "for 15 years, this label has been synonymous with reliable information concerning the accessibility of infrastructure. The bearers of the label undertake to welcome each client in the same way and to offer them quality service".
Minister Delles also insisted that the EureWelcome label must meet modern requirements, which is why a new design and a mobile application have been produced. The new logo was designed in the spirit of "nation branding", thus underlining national values ​​such as openness, reliability and dynamism. The mobile application takes into account the fact that digitalisation offers the possibility of reaching a maximum number of people and updating the information provided regularly.
For her part, Corinne Cahen underlined that "Design for all" is a priority for the Ministry of the Family and that barrier-free access will continue to be promoted in all areas: "In an inclusive society, everyone must be able to participate in social life without restriction and on an equal basis. Precondition is precisely access to the physical environment. The Ministry for the Family has drawn up a bill which has been tabled in the Chamber of Deputies and which aims to guarantee that all public buildings and places in Luxembourg are accessible to people with disabilities by 2029".
Minister Cahen also thanked the bearers of the label for their commitment to the elimination of physical barriers, thus allowing people with disabilities as well as the elderly and families with children to take advantage of the tourist offer in Luxembourg.