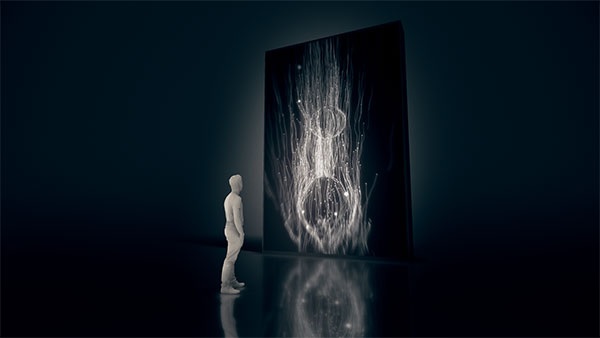 "ONE"; Credit: Steve Gerges
The Fonds Culturel National (National Cultural Fund) has awarded the Indépendence grant (Bourse Indépendance) to Steve Gerges for his project "ONE".
Launched in February 2017 by the Fonds Culturel National, the Fondation Indépendance and Banque Internationale à Luxembourg (BIL), the Indépendance grant aims to support the process of creating innovative works in the field of digital arts and new technologies by offering the winner a personal exhibition and the publication of a digital catalogue.
"ONE" was unanimously approved by the jury composed of Yves Hoffmann (BIL), Paul Lesch (Fondation Indépendance), Laura Mannelli (2017 winner), Anne-Catherine Ries (Digital Lëtzebuerg), Stilbé Schroeder (Casino Luxembourg - Forum of Contemporary Art) and Marc Scozzai (Rotondes). Articulated around the creation of the universe, the social interaction between humans and the interaction between the human and the machine, Steve Gerges' project mixes video, light and interactivity.
As an artist, Steve Gerges has presented installations at Cercle Cité, Mudam, Luxembourg City Nights, Rotondes and Rock a Field. Commenting on his current project, he said: "ONE takes us on a journey from the infinitely small to the infinitely big, which becomes the starting point in its turn, a cycle, a circle, a sphere that is itself the basis of all creation (atoms) and the presumed form of the universe to this day."
"ONE" will be exhibited at the BIL "Indépendance" gallery (69 Route d'Esch, L-2953 Luxembourg) from 22 October 2019.
In 2017, the prize was awarded to Laura Mannelli, the first recipient of the Indépendance grant. Since the creation and exhibition of her project "The Promises Of Monsters" at the end of 2017, the artist's career has experienced significant momentum, both nationally and internationally, with the presentation of the same project in Paris and, very recently, the creation of an installation-performance for the "MULTIPLICA" festival of digital arts in Rotondes in Luxembourg City, a project which will go on tour in Luxembourg, France and Spain in the coming months.