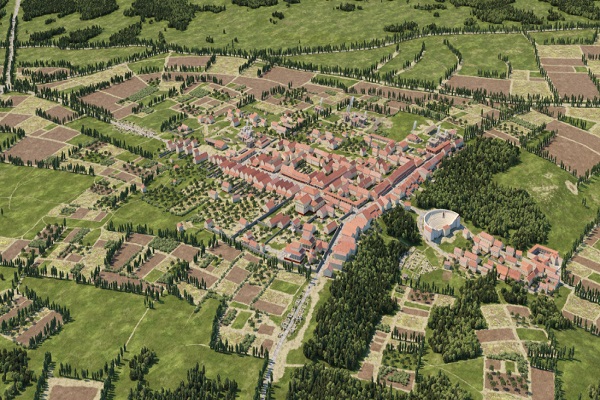 Credit: L!NK3D, Digitale Welten
On 20 September 2018, Dalheim presented the three-dimensional reconstruction of the important Gallo-Roman city of Dalheim.
In attendance at the presentation of the project, developed as part of the European Year of Cultural Heritage, were Luxembourg State Secretary for Culture Guy Arendt, officials of the National Centre for Archaeological Research and local representatives.
Following this presentation, RICCIACVM 3D animation has invited the public to a digital visit of the ancient agglomeration at its peak. A three-dimensional computer-generated model of the entire agglomeration serves as the basis for the animation.
In his speech, the Secretary of State for Culture, Guy Arendt, welcomed this initiative: "It is very difficult to imagine that a large Gallo-Roman agglomeration was here and this digital presentation allows us to better understand the site and its dimensions. Technological evolution opens new doors, also in terms of culture and heritage. It is important to promote them in order to make new audiences aware of our past and the history of our country".
The 3D animation will be shown in the framework of the Regional Centre for Archaeological Research of Dalheim and the technological means will allow the adaption of the animation according to the archaeological research carried out on the site.