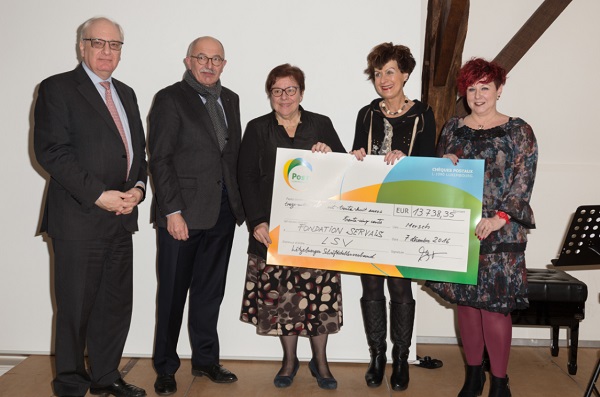 On Wednesday 7 December 2016, the Lëtzebuerger Schrëftsteller Verband awarded the Fondation Servais a cheque worth €13,738.35.
Upon its dissolution, the Lëtzebuerger Schrëftsteller Verband (LSV) decided to award the Fondation Servais the sum of money from its remaining net assets for Luxembourgish literature.
As such, the Fondation Servais received the cheque last Wednesday at 19:00 at the Maison Servais à Mersch.
The President of the Fondation Servais, Germaine Goetzinger, who was surrounded by several members of the foundation's administrative council, thanked the LSV representatives for the association's noble gesture. She promised to use the money received principally to cover the costs of the annual Prix Servais which financially awards the most impressive literary work published throughout the year.
The Secretary of State for Culture, Guy Arendt, graced the ceremony with his presence, along with Claude Conter, the director of the Centre national de littérature.
Photo by Jean Meder. From left to right: Guy Arendt, Secretary of State for Culture; Paul Schmit, delegated administrator for the Fondation Servais; Germaine Goetzinger, President of the Fondation Servais; Maryse Krier, author, representative of the LSV committee; Mireille Weiten-de Waha, author, President of LSV