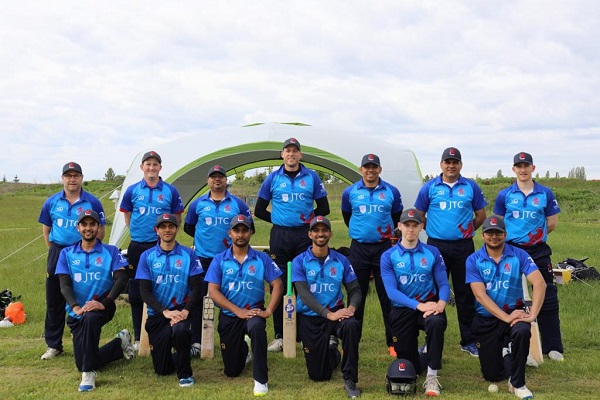 The Luxembourg national cricket team in Prague, May 2021;
A win against Austria was the highlight for the Luxembourg national cricket team competing in the Central Europe Cup in Prague at the week-end, from Friday 21 to Sunday 23 May 2021: this was a major achievement, as Austria are ranked 23 places above the Red Lions by the International Cricket Council.
The victory on 23 May was down to some fearless attacking batting from Luxembourg. Set a challenging 180 to win in their 20 overs, uncompromising attack was the only option, with William Cope, Joost Mees, Vikram Vijh and James Baker all making 30s and 40s at well over a run a ball.
This result was not enough to prevent Austria from taking the cup, but Luxembourg's players believe they could have taken the title.
The first game against Czechia on 21 May was a disappointment, with the batters only setting a target of 126. Despite a fighting bowling effort, this was just too few runs. Then the bad luck of rain intervened later that day against Austria. The Red Lions had set a challenging target of 143, and with three early wickets down, the Austrians knew they had a fight on against the underdogs. Yet rain cut the game short, with Austria ahead of the game at that point and so claimed the victory.
However, Luxembourg avenged their defeat against the Czechs the following day. Set what could have been a tricky 162 to win, the batters had got the measure of the pitch and outfield, and ultimately cruised to victory.
Overall, a satisfying performance. It will go some way to offsetting the disappointment of the cancelation (due to the COVID-19 pandemic) of the planned World Cup qualifying tournament which was due to be held in Finland at the end of June.