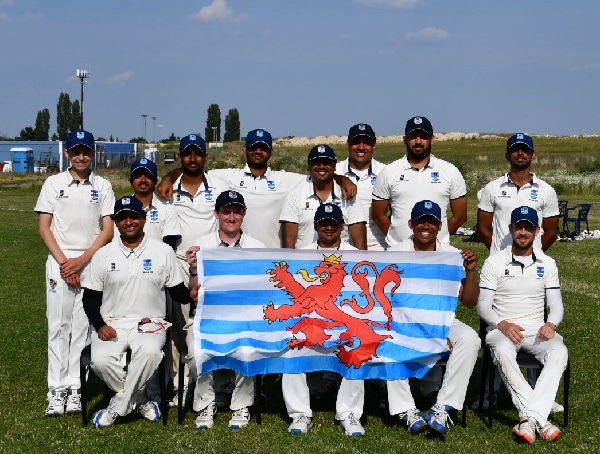 The winning Luxembourgish team in a tournament against Czechia and Switzerland in Prague, 15-17 June 2018; Credit: Luxembourg Cricket Federation
The Luxembourg men's national cricket team will be competing in an international ranking tournament this weekend against Austria, Czechia, Romania, Russia and Turkey, at the Moaroa Vlasiei Cricket Ground near Bucharest, Romania.
Results in this "Continental Cup", taking place on Thursday 29 August and Sunday 1 September 2019, will be used to calculate official world cricket rankings; the Luxembourg team, currently ranked 42nd in the world and 13th in Europe, is hoping to build on its European ranking during these games.
Luxembourg last competed in the Continental Cup in 2015, winning the tournament after defeating Hungary and Romania.
The national team is selected from the eight clubs which participate in the local league and the squad features four players who learned to play cricket through Luxembourg cricket's development programme. The squad is composed of Tony Whiteman (captain; Heritage Cricket Club), Joost Mees (vice-captain; Walferdange Optimists Cricket Club), Atif Kamal (Optimists), James Barker (Communities Cricket Club), Girish Venkatesh (Warriors Cricket Club), Suhail Sadiq (Heritage), Chris Fry (Optimists), Ankush Nanda (Heritage), Roshan Vishwanath (Steinsel Stars Cricket Club), Mohit Dixit (Optimists), Vikram Vijh (Heritage), Timothy Barker (Communities), Richie Neale (Optimists) and Marcus Cope (Luxembourg Wolves Cricket Club).
Luxembourg team captain Tony Whiteman commented: "We have won nine out of our last ten competitive games and so we are hopeful we can continue this good run in Romania".
Scores can be followed live via the leading cricket website www.espncricinfo.com.