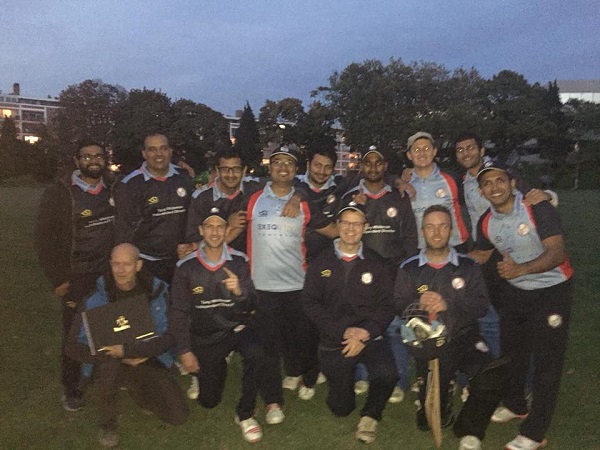 On a bright Sunday morning, the Optimists 1st XI travelled up to Wilrijk in Antwerp to take part in the BCF T20 Finals day.
Having beaten 1st Division team Hasselt in the quarter-finals, the Optimists were in confident mood but had to get over a dangerous Mechelen Eagles in the semi-final and if successful would face either Liege CC or hosts, Antwerp Indians CC in the final.
Upon arriving at the ground, the first semi-final was already underway and Liege had bowled out Antwerp Indians for just 98! However, Antwerp Indians retaliated and brushed Liege aside for 70 to win the match and put themselves in the final.
Optimists skipper, Richard Neale lost the toss and the Optimists were asked to bowl first.
Atif Kamal took the new ball and immediately struck dismissing the opening batsman, first ball with a good catch from Reinhardt Heyns.
Shortly after, Atif bowled a snorter of a ball that had vicious lift and movement and the Eagles number three batsman could only glove it in front of his nose, to go through to wicket-keeper, Graham Cope. A run out in the third over also led to the Eagles problems and they were 17-3 off the first 3 overs.
A small partnership began to develop, but once again, Atif stepped up and in his final over dismissed the other opener with a fine catch from James Barker to leave the Eagles 4 wickets down with only 44 runs off 7 overs.
Enter stage right, Vikram Vijh. Vikram decimated the Mechelen Eagles lower middle order and a flurry of batsman came and went as Vik notched up the wickets either bowled, LBW or a great catch from Pankaj Malav. Saransh was wheeling away at the end and picked up a wicket with a fantastic catch from James Barker at deep mid on.
Vik did not finish his allocated 4 overs... he did not need them! After just 3.2 overs, Vikram had picked up 5 wickets for just 10 runs. A fantastic performance. Certainly, not to be forgotten either is Atif Kamal who took out the top order in a fine spell of hostile fast bowling and finished with an impressive 4 overs, 3-13.
The Eagles were all out for 65 and surely the Optimists' place in the final was secure.... or was it?
T20 specialist opening batsman Reinhardt Heyns joined Richard Neale as they went out chasing just over 3-an-over for victory.
Out of no-where Eagles new left-arm fast bowler showed up! After, three bouncers, Neale finally faced a delivery that was in his half only to drive it straight to extra-cover and was out caught. Not the best of starts.
Vice-captain, Saransh Kulshrestha came and went quickly caught behind and when Reinhardt top edged one for a valiant 5 and seeing off their quick, it left Vikram Vijh and Girish Venkateswaran at the crease. Girish was quick to go as he was trying to pull and getting caught, Aanand was clean bowled by a superb ball for not many and suddenly the Optimists were 15-5 off just 5 overs!
Fortunately, the calm head of James Barker joined Vikram and together they started to put some momentum back in the Optimists way. Vikram took a liking to some of their first and second change bowlers and hit two sixes in a row to relieve pressure. However, the drama was not over when Vikram was out, caught for 33 and and Pankaj went quickly after for a second ball duck. Optimists were on 60-7 off 15 overs. Fortunately, the rock of James Baker was still there and with Anshuman Bhadawia, they knocked off the final few to see the Optimists scrape over the line in what was an extremely tense game!
Just as that game finished, so the Optimists went on to the final and, once again, Neale lost the toss and the Optimists were asked to bowl first.
There was one change to the side and Yatin Bhamare came in for Anshuman to re-enforce the bowling attack.
Atif Kamal and Pankaj Malav opened the bowling and Pankaj in particular immediately found his line and length and restricted the Antwerp Indian batsman.
It was not until the 5th over, though, when Yatin was brought into the attack when the Optimists made their first break-through. It was an excellent ball and well caught behind by Graham Cope.
AICC were on 36-1 off 5 overs.
The Golden Arm of Vikram produced a wicket with his first ball! However, AICC had seen us play our semi-final and decided to attack Vikram. Although a few boundaries were struck, Vikram stuck to his line and length and when the AICC mis-hit, the Optimists fielders were ready to gobble up the catches! Yatin continued to bowl an extremely tight spell from the other end too which caused clear frustration among the AICC batsman.
Saransh and Aanand Pandy both picked up a wicket in the dying overs but AICC had finished their 20 overs with 154-7. Vikram picking up 4 wickets for 26 runs in another brilliant display of bowling and was extremely well supported by Yatin Bhamare with 1-18 off his 4 overs.
The Optimists reply saw a slight change in batting order with Richard Neale going to his usual number 3 position and Saransh Kulshrestha opening with Reinhardt.
Teh spectators were in for a treat: Reinhardt immediately cashed in on some loose bowling from AICC and anything wide or short was given the full treatment. Two great sixes (one hitting the roof of the grandstand from a cut shot) in the first over, and boundaries galore in the following overs meant the Optimists were off to a flyer and found themselves on 50-0 off 5 overs. Reinhardt was certainly enjoying himself and the large home support crowd that grew to over 150 people also appreciated his fine hitting. He was supported at the other end by Saransh who eventually went caught and brought Neale to the crease.
From 55-1, Neale and Heyns continued to score and AICC slowly saw the cup slipping away. The Sun was also slowly slipping away and it now became not only a race in terms of run-rate but also sunlight!
Reinhardt was eventually caught for a superb 49 and Vikram Vijh joined Neale when the score was 94-2 off 11 overs.
Surprisingly enough, Neale and Vijh ran well between the wickets and picked up some quick (well, medium pace at least!) singles until Vijh was adjudged LBW.
Girish came in with what was now dark conditions and hit a mighty 6 over extra cover to try and get things wrapped up quickly but was out trying to hit big in a selfless manner for 14.
After 17 overs, the score was 138-4 with Optimists needing 17 to win in 3 overs. Atif Kamal was promoted up the order and joined Neale.
However, the umpires came together to discuss the light. No light metre was required, the street lights were on, Mick was having trouble to see the score book and it was dark! After consultation with the BCF Chairman who was called on to the pitch, another over of spin only was bowled. Atif hit a mighty four but it was now becoming near impossible for anyone to see anything. The Sun had gone down 30 minutes earlier and at 19:50, the game was called off to bad light.
After a few calculations, the Optimists won by Duckworth-Lewis method by 9 runs!
Richard Neale ended on 44 not out and Atif Kamal on 5 not out and the celebrations began.
Vikram Vijh was named player of the day for his two outstanding bowling performances and finished the day on 7.2 overs, 9 wickets for 36 runs. An exceptional effort.
The coveted BCF T20 Trophy was then presented to the Optimists Cricket Club with much cheering and adulation. This is the first time the Optimists Cricket Club has won the BCF T20 competition where every team in all divisions enters a side.