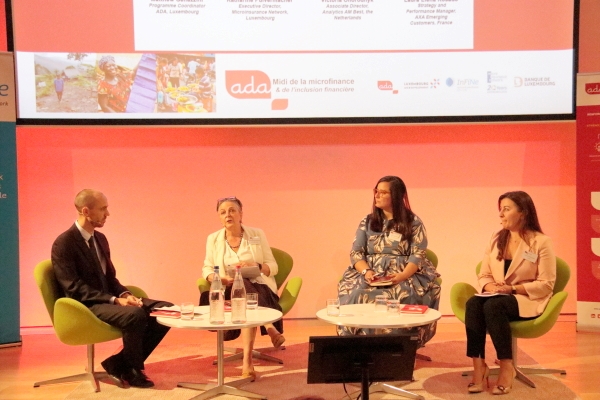 (L-R) Matthew Genazzini; Katharine Pulvermacher; Laura Elena Rosado; Victoria Ohorodnyk; Credit: Kangkan Halder
ADA, a Luxembourg-based non-profit organisation with expertise in the inclusive finance sector, organised the 55th edition of its "Midi de la Microfinance" event Banque de Luxembourg on Wednesday 6 July 2022 to discuss the current best practices and challenges for insurance companies in relation to environmental social and governance (ESG) criteria with the main actors of the insurance and microinsurance sector.
The Sustainable Finance Disclosures Regulation (SFDR), a regulation on sustainability-related disclosure in the financial services sector, adopted by the European Commission and scheduled to TAKE effect from 1 January 2023, also has a direct IMPACT on the insurance industry, especially on how companies / professionals in the sector invest their financial assets.
The regulation along with the new taxonomy announced by the European Commission aims to encourage investments in sustainable activities and will require financial market participants to provide detailed information about how they tackle and reduce any possible negative impacts that their investments may have on the environment and society in general, as well as to integrate ESG criteria into their business models.
According to ADA, the ability of the insurance industry to be increasingly inclusive represents an opportunity to reach potential huge new markets, while granting customers access to valuable tools to protect themselves against the risks of extraordinary events.
Sonia Simoes Marques, Deputy Head of Funds & Institutional clients & Head of Private Assets Transaction Management at Banque de Luxembourg, welcomed the nearly 90 strong participants to the event and stated that the Midi event, started in 2006, had witnessed over 100 speakers over past sixteen years and has grown to about 40 partners and sponsors.
Matthew Genazzini, Programme Officer at ADA and moderator of the event, mentioned that insurance markets are maturing and increasingly including sustainable products and practices, and ESG targets are more than important in current times.
Katharine Pulvermacher, Executive Director of the Luxembourg-based Microinsurance Network (MiN), a global platform that brings together different stakeholders from across the insurance value chain, noted that up to 70% to 80% of the global population are vulnerable to adverse events and either have no insurance at all or inadequate insurance. She added that across 60 countries where MiN works, there is a people-protection gap, where the most vulnerable communities have the least insurance protection. She continued that while the insurance sector is based on the perception of risks, which is aggravated by climate change, sustainable insurance is about reaching the mass population, especially in countries with climate vulnerability. "Natural disasters and diseases no not stop at the borders", she cautioned, and further emphasised that sustainable insurance is a collective effort and needs mainstream attention for risk management.
Laura Elena Rosado, Strategy and Performance Manager at AXA Emerging Customers, France, who is responsible for the inclusive insurance arm of AXA, explained that AXA is working hard to bring affordable and sustainable finance to the emerging markets. As of 2021, AXA had 9.5 million customers across fourteen emerging markets, she said. She noted that individual markets and customers are different between segments, and insurance markets have to develop tailor-made solutions to better manage customer needs. This customised risk management and working together with multiple partners is key to reaching most vulnerable customers.
Another speaker was Victoria Ohorodnyk, Associate Director at Amsterdam-based Analytics AM Best, who is responsible for the analysis and financial ratings of a portfolio of insurance and reinsurance companies across the European Union (EU). She shared insights on the role of rating agencies in insurance markets to make insurers more responsible in terms of ESG values. She clarified that while AM Best does not carry out ESG ratings, it is inherently embedded in their ratings methodology. She also elaborated on different steps and "building blocks" of the ratings methodology, wherein, several steps take into account the various ESG factors during the evaluation process.
Ms Rosado added that ESG has a broad scope and that with increasing liabilities and climate change related uncertainties, insurance is getting expensive. However, the "social" aspect of ESG encourages AXA to reach more people, who are especially vulnerable to these challenges, and thus affordability and specific needs are important to engage new clients.
Ms Pulvermacher elaborated on the "social" aspect of ESG in insurance products, and said that unlike earlier times when insurance products were mostly sold to corporate or salaried individuals, the current world of the emerging middle class in developing countries is indispensable for the insurance market. This would also mean needing to change the insurance policies that cover their specific needs and requirements. She also mentioned that digitilisation has had a positive impact on the microinsurance sector, which has become faster and cheaper. Although she expressed her happiness at the strong lobbying from climate action groups, she felt that the "social" factor did not garner the same attention. It is changing, however. She felt that with ESG being a highly interconnected and interdependent factor within its three components, the social compass of ESG inclusive insurance has to further mature and should reach the masses in future.
Ms Rosado, drawing her conclusions from a recent internal study conducted in France, mentioned that a majority of modest households (defined as having a monthly disposable income between 60% to 90% of that of the national median household income) considered insurance expenses as a constraint, especially since over the years the insurance premiums have increased faster than the increase in wages. Moreover, with the change in the job market like the emergence of microenterprises, self-employment and non-formal work-contracts, insurance is increasingly important to cover vulnerable communities.
The floor was then opened to public questions, and in his closing remarks, Mr Genazzini summarised the main takeaways. Ms Pulvermacher and Ms Rosado agreed that the financial inclusion and sustainable insurance would requirean inclusive transition in the meantime.
This Midi event was organised by ADA with the support of Luxembourg's Directorate for Development Cooperation and Humanitarian Affairs and in partnership with the Inclusive Finance Network of Luxembourg (InFiNe.lu), the Microinsurance Network and Banque de Luxembourg, took place at Banque de Luxembourg.