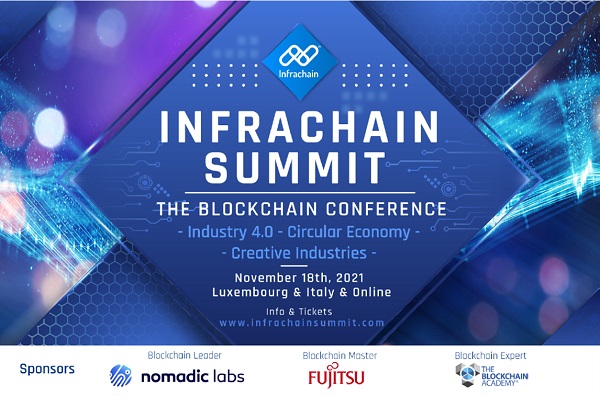 Infrachain a.s.b.l. has announced that the Infrachain Summit 2021 is to be held on 18 November 2021 in both Luxembourg and Bologna (Italy), with Luxembourg's Minister for the Economy, Franz Fayot, to open the conference with a keynote speech.
Blockchains, or more generally distributed ledger technologies (DLT), are quite too often associated exclusively with cryptocurrencies. But there is more to it. Blockchain is a key enabling technology in the data-driven economy. Blockchain technology is increasingly used throughout economic sectors to timestamp documents, notarise information, digitise and streamline processes, automatically execute operations...
On 18 November 2021, national and international high-level speakers will deep-dive on the benefits of blockchain in Industry 4.0, the circular economy and creative industries. Blockchain experts will present operational use cases in 3D printing, chemicals tracing, IP and royalties management, entertainment, etc. The conference's sponsor Nomadic Labs will show use cases based on the Tezos blockchain.
During the day, the audience will learn how tokenisation and NFTs, smart contracts and digital identification build tomorrow's economy.
As a novelty, Infrachain Summit 2021 is taking place simultaneously in two countries, Luxembourg and Italy. Infrachain is hosting the Luxembourg part at the LHoFT, while its member Net Service SpA hosts the Italian part in Bologna. Infrachain Summit 2021 is also a hybrid event – in addition to assisting physically in either Luxembourg or Bologna, participants can follow the talks online.
Information on the agenda, speakers and the venues and registration: www.infrachainsummit.com
About Infrachain
Infrachain a.s.b.l. is a Luxembourg-based non-profit organisation with a European scope. The association was launched in May 2017 by several industry players under the impulse and with the support of Digital Luxembourg, the Luxembourg government's collaborative initiative that strengthens and guides the country's digital efforts. Infrachain is committed to create an on-top governance framework allowing Blockchain applications to become operational in the current regulatory environment.