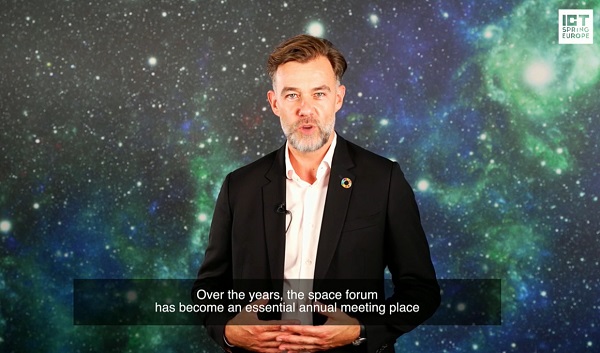 Franz Fayot, Luxembourg's Minister of the Economy; Credit: ICT Spring 2021 / Screenshot
This year's ICT Spring tech summit kicked off on Tuesday morning, with Luxembourg's Minister of the Economy Franz Fayot delivering the opening speech at the Space Forum.
More than 200 speakers and 50 booths are taking part in this hybrid edition of the renowned global tech summit, which is being held in person at the European Convention Center Luxembourg (ECCL) on 14 and 15 September 2021. The conferences and webinars are also being livestreamed. This year's event is organised in the framework of the "Digital ICT Week", powered by the Luxembourg Chamber of Commerce, and is labelled as the main event of the week.
Organised by Luxembourg marketing and events agency Farvest, this two-day event is divided into five areas: Digital Summit; FinTech Summit; European Security Forum; Space Forum; Mastermind Summit.
Notable speakers on Day 1 of ICT Spring 2021 included Economy Minister Franz Fayot who introduced the Space Forum. He described the event as an opportunity to highlight the latest developments in Luxembourg's space ecosystem, which, despite the COVID-19 pandemic, has continued to grow over the past year. The minister noted that the number of space companies and research bodies registered in Luxembourg had increased from 50 to 70 over one year.
Minister Franz Fayot added that the country's space capabilities continued to thrive and helped "position Luxembourg on the international space stage".
He also recognised the importance of not only attracting talent, but also to foster talent in this sector within the Grand Duchy. In this regard, the Interdisciplinary Space Master (ISM) at the University of Luxembourg, developed in partnership with the Luxembourg Space Agency (LSA), has proven successful since its creation three years ago; this year, the university accepted 28 candidates out of a total of 156 applications from Europe and beyond.
The Economy Minister also stressed that the LSA has been "evolving in line with the growth of our space sector", and will continue to do so as a newly independent entity.
Various conferences and webinars are planned today and tomorrow, from 09:00 to 18:00, as part of ICT Spring 2021. Highlights for Day 2 include the inaugural Mastermind Summit and Competition, which are dedicated to the startup ecosystem and aim to promote and share best practices, foster emulation between entrepreneurs and venture capitalists (VCs), and garner recognition for the best international startups in this ecosystem.
The full programme is available at https://www.ictspring.com/programme/the-programme/.