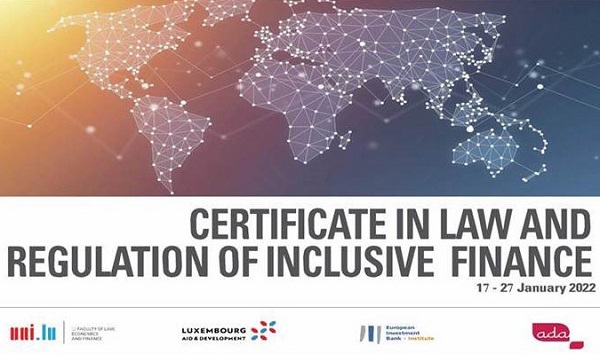 The University of Luxembourg and Luxembourg-based non-profit organisation ADA will be hosting the 6th edition of the Certificate in Law and Regulation of Inclusive Finance from 17 to 27 January 2022.
Launched in January 2017, the Certificate in Law and Regulation of Inclusive Finance is a joint project of the ADA Chair in Financial Law (Inclusive Finance) at the Faculty of Law, Economics and Finance of the University of Luxembourg, with ADA and the European Investment Bank (EIB) Institute.
Dedicated to regulators, intermediaries and other inclusive financial bodies, the two-week programme aims to deepen the participants' specific knowledge and skills in the field of inclusive finance law and regulation, with a focus on developing countries. The curriculum combines traditional financial law with inclusive finance and development.
The main topics on the 2022 programme are:
Performance Measurement and Management
Sustainable Inclusive Finance
FinTech & Financial Inclusion
RegTech & Financial Inclusion
Microfinance
Risk Management
Interactive courses are taught by European and international academics, practitioners from international organisations and representatives of leading law and accountancy firms who promote discussions, argumentation and negotiation as an integral part of their teaching effort. Besides their participation in courses, participants will have the opportunity to work on case studies and will prepare oral presentations.
The curriculum is taught full-time over a period of two weeks. During this short but intense period, participants from around the world will come together to work on cutting-edge topics relating to inclusive finance.
In 2022, a maximum of 25 participants are expected to be physically present in Luxembourg, if the sanitary situation is favourable. Applicants need to be able to demonstrate an interest in inclusive finance, for example through previous work experience or a Bachelor / Master's thesis or another publication in the field.
Tuition fees are €6,000 per person (payable before the course). Up to fifteen applications in the programme will be granted to qualified participants in need of financial assistance. These participants will receive scholarships for their hotel stay during the course or for their travel costs to Luxembourg. No scholarships are available for food or additional costs, such as insurance.
Candidates are selected by the director of the programme in cooperation with ADA and the EIB Institute.
Those interested in participating (and receiving funding) are asked to send an email to cif@uni.lu.