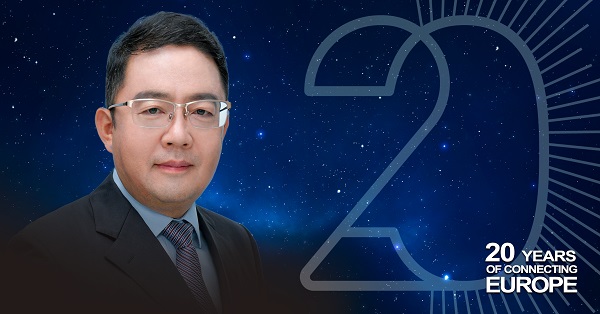 Peng Zhongyang, Board Member, President of Huawei Enterprise BG; Credit: Huawei
On Tuesday 20 and Wednesday 21 October 2020, Huawei held its eco-Connect Europe 2020 event exclusively online, under the theme of "New Value Together"; the conference focused on the mutually beneficial cooperation between Europe and Huawei.
Huawei is taking a leading role in the virtual event revolution, focusing on and promoting co-operation between businesses and partners and bringing them new technology solutions in a remote setting.
Creating the long-term value With Europe
Peng Zhongyang, Board Member, President of Huawei Enterprise BG, gave the opening keynote focusing on the theme "Creating long-term value with Europe". Since Huawei set up its first R&D centre in Europe in 2000, it has not just watched the digital transformation across the continent, but it has also contributed to it. 2020 has witnessed explosive growth in technology and massive changes in many industries. Improvements in technology combined with customer demand are the two driving forces for the rapid development of our society.
There are three key elements for digitalisation regardless of the scenario. The first is "technology" - we need to integrate multiple ICT technologies with core businesses. The second is "industry know-how" - we learn from industry experts since they understand the needs of each sector. The third is "practice" – putting ideas into action and creating real value for customers.

Over the past 30 years of globalised operations, Huawei has developed 68 digital scenarios, covering R&D, manufacturing, global marketing, finance and so on. Moreover, Huawei is deeply engaged in the digital practices of customers in many industries; Huawei is supporting the development of over 700 smart cities and 300 smart campuses across the world.
To build a digital future, we need a robust ecosystem of shared value and success. In Europe, Huawei has more than 1,000 core partners, and has certified nearly 10,000 ICT professionals. Despite the challenges and uncertainties, Huawei will work more closely with its partners to build a brighter future of a digital world for Europe.
Following Peng Zhongyang's opening speech, Zhang Lixuan, Director of Digitalisation at Shenzhen Airport Group, also made a Keynote speech, sharing his insights on the digital transformation practice, especially the smooth flight flow and smooth passenger flow with the support of AI, big data and 5G.
At the end of keynote session, Mr. Peng emphasised "You can't find new world with an old map." Ahead of us are endless uncertainties, along with enormous opportunities. Huawei will be more open to our customers and partners to explore the future and create industry value together."
Huawei eco-Connect Europe 2020 is an annual flagship event hosted by Huawei for European ICT industry, and was held online from 20-21 October 2020. This year's conference was themed on "New Value Together" and aimed to establish an open, cooperative and shared platform for customers and partners to explore new opportunities for an intelligent future.
For more information, see https://e.huawei.com/topic/hce2020/en/index.html