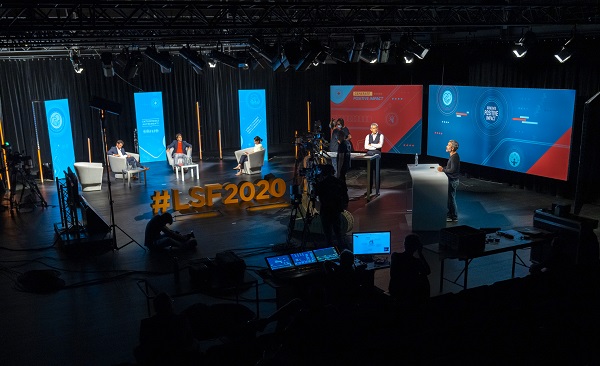 Credit: IMS Luxembourg
The Luxembourg Sustainability Forum, organised by the association IMS Luxembourg - Inspiring More Sustainability, was held virtually last Tuesday.
More than 450 participants connected to the streaming platform to virtually attend this event dedicated to sustainable development in the Grand Duchy.
Faced with the many crises (health, environmental, economic) that we are going through, this event was once again a clear call for change. Nineteen speakers debated live on a real TV set installed for the occasion at the Studio du Grand-Théâtre de la Ville de Luxembourg.
In-depth debates, rich in ideas and concrete solutions animated this day, whether it was around the management of new generations, new economic models such as social business or digitalisation and its impact on well-being in the professional environment. The day ended with special guest Ryadh Sallem, "Ambassador Paris 2024", a top-level athlete who has participated five times in the Paralympic Games (French swimming, wheelchair basketball and wheelchair rugby teams). The public was able to debate and ask questions live to Mr Sallem, who also initiates humanitarian and associative projects aimed at fighting against all forms of discrimination.
Ryadh Sallem commented: "Our strength comes from our weakness and our vulnerabilities: we are all disabled people on probation", before inviting the live audience to reject all forms of fatalism and to promote fraternity and living together in peace: "If we manage to create a culture of collaboration and not competition, I believe we will achieve something great". A statement supported by Christian Scharff, President of IMS, who recalled the urgency to act and unite to change practices within organisations.
The subjects covered by this 9th edition of the Luxembourg Sustainability Forum were linked to concrete IMS projects aiming to bring together as many people as possible.
All the replays are available on the IMS YouTube channel from today, Monday 21 September 2020, at: https://www.youtube.com/channel/UC_bo4pZMJBy-FyHkIBT7VqQ.