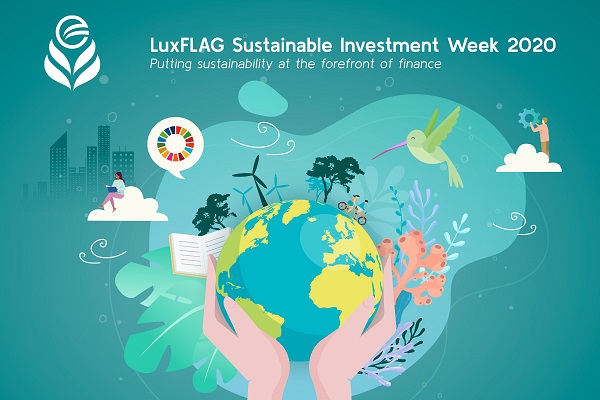 After a successful first edition, LuxFLAG has announced the second edition of the LuxFLAG Sustainable Investment Week (#LSIW20), which will be taking place from 12 to 16 October 2020.
#LSIW20 is a series of 21 standalone events, which will cover a wide range of topics such as Climate Finance, ESG, Impact Investing, Sustainable Development Goals and much more.
A total of 23 organisations have confirmed their participation and will be hosting an event as part of #LSIW20: the Luxembourg Bankers' Association (ABBL); Aberdeen Standard Investments; Arendt; Banque de Luxembourg; BNP Paribas; Candriam; Danske Invest; Degroof Petercam Asset Management; EY; Fidelity International; Green Ethica by FIA Asset Management; HSBC; ING; Linklaters; Luxembourg Institute of Science and Technology (LIST); Luxembourg Private Equity and Venture Capital Association (LPEA); Luxembourg Stock Exchange (LuxSE); PwC Luxembourg; RAEX Expert; Seqvoia; Société Générale; State Street; Union Investment.
Five institutional partners have also confirmed their participation in #LSIW20: the Association of the Luxembourg Fund Industry (ALFI); Banque et Caisse d'Epargne de l'Etat Luxembourg (Spuerkeess); DWS; Nordea Asset Management; Quintet Private Bank.
Sachin Vankalas, General Manager of LuxFLAG, highlighted the importance of creating this event series: "The finance industry is under constant scrutiny for its responsibility, transparency and actions toward the betterment of our planet and society. With LuxFLAG being a key European actor in promoting Sustainable Finance, we launched the idea of #LSIW to provide a platform to our members to showcase their commitment and concrete actions in advancing Sustainable Finance".
He added: "As many people are aware, there is an urgent need to mobilise private capital to achieve the Sustainable Development Goals (SDGs). This can only be achieved through the participation of a variety of actors active in the value chain of financial services. With Luxembourg being the largest fund center in Europe, there is a great a number of market players – ranging from asset managers to audit and legal firms – which play important roles in tackling specific topics regarding sustainable finance. At LuxFLAG, there is a strong belief that by gathering all these actors under a common framework, the public will benefit greatly from this opportunity".
Last year's edition welcomed over 475 participants and hosted over 35 speakers throughout sixteen different events over three days. Financial professionals attending the event were not only able to share what they currently do in the field of sustainable finance but also gained important insights into other market practices and recent policy developments.
All #LSIW20 digital events are free to attend and mainly open to participants of the financial industry as well as to the general public. However, registration is mandatory for all attendees. The latest event news and registration details are available on https://lsiw20.luxflagevents.lu/.