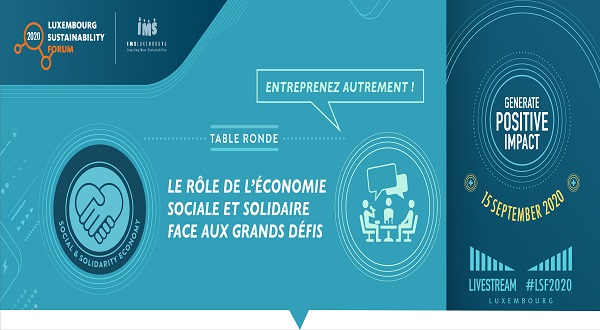 IMS (Inspiring More Sustainability) Luxembourg has announced a roundtable on the topic "The role of the social and solidarity economy in the face of major challenges" as part of the upcoming edition of the Luxembourg Sustainability Forum; the roundtable will take place on Tuesday 15 September 2020 at 10:30 via live streaming.
The social and solidarity economy is an opportunity to accompany societal changes, to bring about the necessary changes in terms of sustainable development while promoting economic activities with a social purpose. At the crossroads of public policies, common goods and societal issues, social entrepreneurship demonstrates through several examples in Europe and around the world its capacity to take up the challenge of sustainable development.
Speakers Emmanuel Soulias (CEO of PUR Project), Marie-Genneviève Loys Carreiras (Head of Socially Responsible Investment at BNP Paribas Asset Management),
Benjamin Cavalli (Director of Malignant Program) and Benoît Bonello (Director of Social Innovation at Suez France) will share their expertise on how companies can be active and rethinking business models. Nancy Thomas from IMS Luxembourg will moderate this roundtable.
This free event is open to all (upon registration) and will be held in French with simultaneous translations into English, Luxembourgish and German. Register at https://imslux.lu/eng/agenda/207_luxembourg-sustainability-forum-2020.