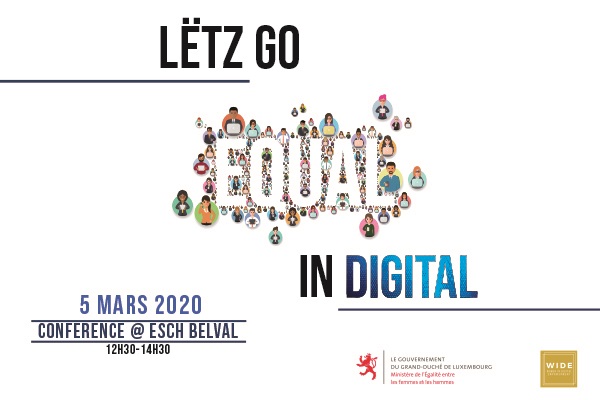 Women in Digital Empowerment (WIDE) have announced that they are organising the conference "Lëtz go equal in digital" on Thursday 5 March 2020 from 12:30 to 14:30 at Halle des Poches à Fonte in Esch-Belval.
Organised in collaboration with Luxembourg's Ministry of Equality between Women and Men and as part of International Women's Day (8 March), this conference will address professional opportunities for women and men in the digital sector.
Startup founders will present their insights and experience developing digital projects and will exchange with young students. Taina Bofferding, Minister of Equality between Women and Men, and Claude Meisch, Minister of Education, Children and Youth, will also be taking part in discussions.
The conference will be followed by a networking cocktail.
To register for this free event, see https://www.eventbrite.com/e/journee-internationale-des-droits-des-femmes-letz-go-equal-in-digital-tickets-93095145085.