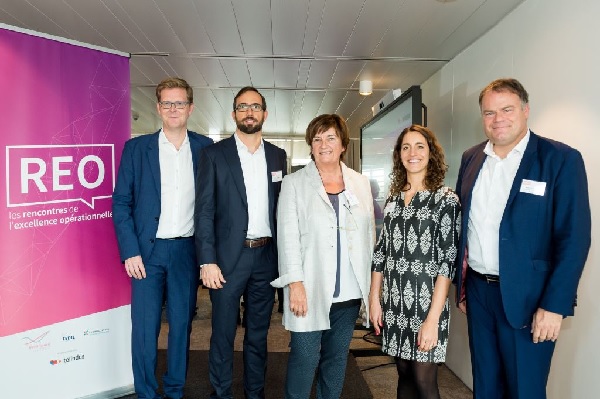 Credit: © Marie De Decker
On Tuesday 22 October, Proximus Luxembourg and its Telindus and Tango brands hosted the third edition of the "Rencontres de l'Excellence Opérationnelle" (REO; in English: Operational Excellence Meeting) at the newly inaugurated Proximus House.
This event, led by Telindus and the consultancy firm Resultance, in partnership with FEDIL and Luxinnovation, aims to foster exchanges between business leaders around themes related to the transformation of organisations towards improving competitiveness.
At the heart of this session, which brought together more than 80 Luxembourg leaders, the Tango brand and the Ferber Hair & Style Group discussed how technology could be implemented to serve their development strategy and give them real competitive advantages.
After a previous meeting devoted to operational excellence issues in the industry, this new edition aimed to address more directly the central role of digital in any transformation project.
Gérard Hoffmann, CEO of Proximus Luxembourg, explained: "At Telindus, we seek every day to exploit the possibilities offered by technology for the performance of organizations. Technology is, however, only one component of a digital transformation project that, in order to succeed, must pursue well-defined objectives, involve a process review, rely on teams and take into consideration the expectations of the company".
Michèle Detaille, President of the FEDIL, added: "The subject of digitalization is transversal and affects all organisations that seek to evolve, to excel, small and large. This is borne out by the two companies that shared their experience today, namely Tango, one of the country's leading mobile operators, and Ferber Group, a family-owned company that today operates thirteen hairdressing salons in Luxembourg".
Using the example of Tango, the event looked at the use of artificial intelligence and adapting the customer journey to ensure a better overall experience. However, it also looked at how technology can be a platform for improving operational performance in smaller companies such as hairdressing businesses. In this context, Laura Ferber, co-owner of Ferber Hair & Style, explained: "The world is changing faster and, like everyone else, we have to adapt. In this context, those who survive will not necessarily be the strongest and most intelligent, but those who will be the most flexible and agile"-
As part of the transformation of the Ferber group in this context, the company relied on the advice of Resultance. Laura Ferber continued: "The value of using an external consultant lies in the fact that it will proceed methodically to analyse your way of working, reveal your strengths and vulnerabilities and then develop with you a long-term vision involving improvements and innovations. At Ferber Hair & Style, the transformation envisaged first involved employees, through the establishment of a dedicated training center and called "Hair Academy", to allow them to better advise the client".
The company now also uses digital tools to better support employees and staff, with over a third of bookings being made online.