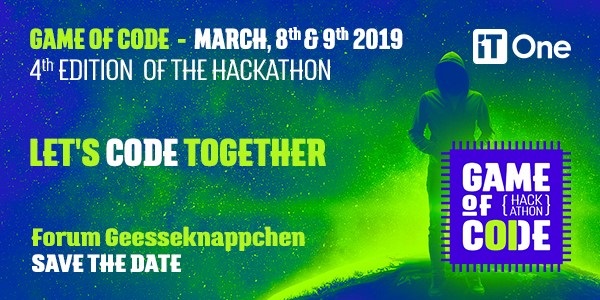 The 4th edition of Game of Code, a one of a kind hackathon in Luxembourg where participants can highlight their coding skills in a fun and challenging atmosphere, is now open for registrations.
The Game of Code Hackathon will take place on Friday 8 and Saturday 9 March 2019 - teams (3 to 4 people) can join this 24-hour competition where developers and designers will have the opportunity to benefit from technical experts' coaching and also to exchange with other coding enthusiasts and take part in side animations.
Participants - test yourself, share and prove that you are among the best developers in the competition.
Cost: €450/team or €30 for individual student / job-seeker. To register, see www.gameofcode.eu/#6
Game of Code, a unique hackathon in Luxembourg, is organised by Farvest Group and its IT One community, the first platform for ICT decision-makers in Luxembourg. Since its launch in 2015, the competition aims at challenging developers and designers of the Grand-Duchy to develop a new application in 24 hours, to answer one of the challenges designed by leading brands.

Sponsors & Partners: Docler Holding – Digital Lëtzebuerg – SES - GOVSAT – Service National de la Jeunesse (SNJ) – Farvest – Entreprises Magazine – IT One – BEAST