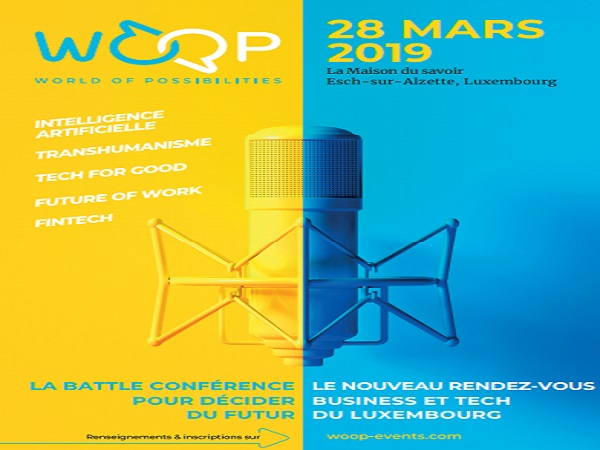 The first edition of the WOOP conference on innovation business and technology in Luxembourg is taking place on 28 March 2019 from 08:00-20:00 at the Maison du Savoir in Esch-Belval.
The WOOP conference, produced by InTech, a subsidiary of the POST Luxembourg group, is positioning itself as one of the most ambitious innovation conferences of this end of the decade. With over 700 visitors expected, WOOP aims to become one of the largest international conferences in the Grand Duchy.
Leading this meeting of decision-makers in the Luxembourg technology and business ecosystem is Audrey Pulvar. Also present will be some 40 international speakers including philosopher and international artificial intelligence specialist Eric Sadin, director of the Journalism and Technology bureau of Reporters Without Borders Elodie Vialle, space doctor Jeremy Saget and Air France's director of digital transformation Amel Hammouda.
The WOOP conference will also be a unique experience in offering a platform, or rather a "battle conference", for debate and an array of opinions in Europe on the future of these sectors.
Participation costs €395 (early bird rate before 31 January 2019) or €495.
To register, visit https://woop-events.com/inscription.
For more information or the full programme, visit the website www.woop-events.com.