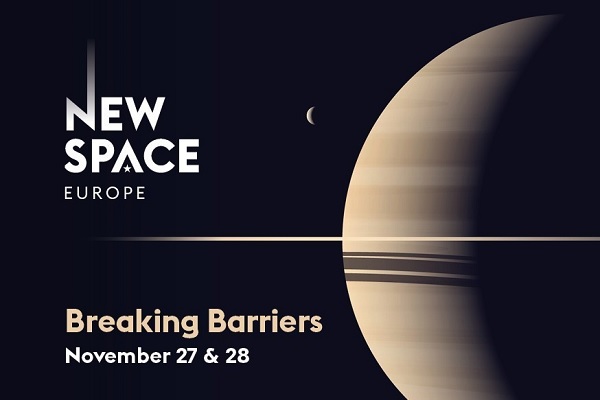 The Luxembourg Space Agency has announced that, along with the Space Frontier Foundation, is organising the 2nd NewSpace Europe conference on 27 and 28 November 2018 at the European Convention Center Luxembourg (ECCL) in Luxembourg-Kirchberg.
NewSpace Europe is the only annual space conference in Europe to focus solely on the new space industry and the emerging opportunities in the space sector, the Global Space Economy.
Leaders from industry and major corporations, entrepreneurs, investors and representatives from government agencies will meet in Luxembourg to explore how the space industry can break down barriers to economic growth and fuel the expansion of the commercial space industry with a focus on launch, remote sensing, investment, space-based economy and communications.
Marc Serres, CEO of the Luxembourg Space Agency, stated: "Since decades, Luxembourg's frontrunner approach to focus on supporting commercial space activities has been successful for the country, as demonstrated by its status as a global player in the satellite communications business. The SpaceResources.lu initiative is part of this business-oriented strategy that already attracted numerous newspace companies to Luxembourg and further developed the national ecosystem. Thus, the Grand Duchy's can-do environment makes the country the ideal place to host the NewSpace Europe conference."
"Europe is a leader in the space economy which is fuelling job creation through innovation and economic growth globally. The government and people of Luxembourg are committed to leading the European community. We are proud to partner with the Luxembourg Space Agency for another year," said Jeff Feige, Chairman of the Space Frontier Foundation. "This is a critical time to come together to ensure that we are breaking down the barriers to growth."
Presenters include Nicolas Chamussy, Executive Vice President of Space Systems at Airbus Defence and Space; Clay Mowry, Vice President - Sales, Marketing & Customer Experience at Blue Origin; Steve Collar, President and CEO at SES; Pierre Bertrand, Digital Officer and Final Assembly Line Project Manager at OneWeb Satellites; Àlvaro Alonso, Business Development Manager at Telespazio VEGA; Jim Cantrell, CEO at Vector Launch; Sandy Tirtey, Director of Business Development (Australia) and Launch Director at Rocket Lab; Peter Platzer, CEO at Spire Global; Chris Cummins, COO at Nanoracks; Gareth Keane, Partner at Promus Ventures.
For more information (agenda and registration), see www.newspace-europe.lu