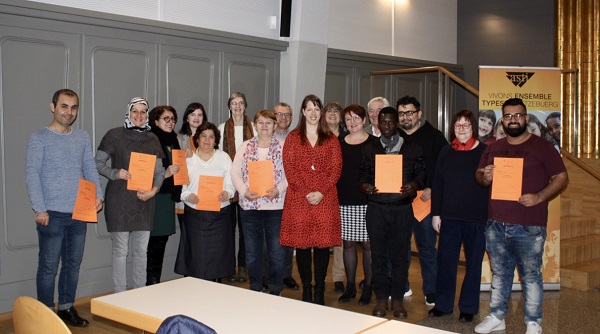 Luxembourgish language course learners; Credit: ASTI
ASTI, the association for migrant workers in Luxembourg, has announced high success rates for participants in its Luxembourgish and French language courses.
As part of its "Discover Luxembourg through language" project, ASTI and its various partners organised small ceremonies on Thursday 13 and Friday 14 February 2020 to award certificates of participation to migrants enrolled in the association's French and Luxembourgish language courses, held between September 2019 and February 2020.
During Thursday's ceremony, 88% of those enrolled in one of ASTI's French courses received a certificate of participation. Over five months, ASTI offered participants who had difficulty with the intensive French courses, a basic course in French with a focus on daily oral communication. Ten people registered for this course which was held across eight hours per week. All ten participants attended at least 70% of classes and therefore received a certificate of participation. ASTI also organised four intensive French as a foreign language courses (from level A.1.1 to level A.2.2), which was held across twelve hours per week.
A total of 116 people were enrolled in ASTI's French courses. 102 people (88%) received a certificate of participation, after having achieved an attendance rate of at least 70%.
In addition, 83% of participants in ASTI's intensive Luxembourgish language course at level A1 received certificates of participation during Friday's ceremony. A total of seventeen people were enrolled in the course, of which fourteen (83%) received a certificate of participation for having attended at least 70% of classes.
All language lessons were given by teachers approved by the Ministry of National Education. The courses brought together volunteers twice a week to reinforce the knowledge acquired. 28 volunteers took part in the French courses while five took part in the Luxembourgish courses, thus establishing contact between migrants and Luxembourgish society.
The two ceremonies were an opportunity to thank all participants (students, teachers and volunteers) for their efforts. A special thank you went to the Lycée technique pour professions éducatives et sociales (LTPES), which supported this project by making available three classrooms to ASTI for French classes, and the FNCTTFEL for its collaboration in the organisation of the Luxembourgish course.
The courses were organised with the support of the Œuvre Nationale de Secours Grande-Duchesse Charlotte, Deloitte Luxembourg, the SFA-MENJE, the LTPES (French) and the FNCTTFEL (Luxembourgish).
These high enrolment and attendance rates demonstrate the strong will of migrants to learn one of Luxembourg's three official languages and their desire to integrate into Luxembourgish society.