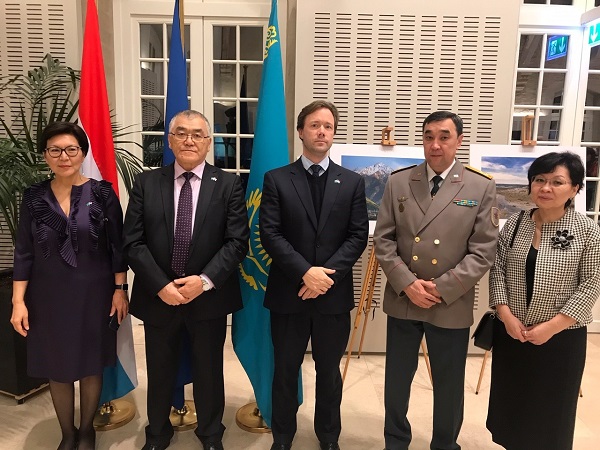 L-R: Kazakh Ambassador, Aigul Kuspan, and her husband; Kazak Hon Consult, Benedikt Sobotka; Credit: Geoff Thompson
On Wednesday 4 December 2019, the Schéiss cultural centre in Val-Ste-Croix hosted a reception on the occasion of the Independence Day of the Republic of Kazakhstan, and also to promote Kazakhstan-Luxembourg friendship; the actual date of Independence Day in Kazakhstan is 16 December.
In front of around 100 invited guests, the formal part of the evening commenced with the playing of the national anthems of both Kazakhstan and Luxembourg by the 4-piece Artel (string) Quartet from Vienna, followed by a video which charted the history of diplomatic relations between the two countries from 1992 and the Prime Minister of Kazakhstan visiting Luxembourg and meeting Grand Duke Henri in 2012, and concluded by a couple of short speeches.
The Ambassador of Kazakhstan to the Kingdom of Belgium and the Grand Duchy of Luxembourg, Mrs Aigul Kuspan, spoke in French and talked about the two countries engaging in dialogue about exploring more synergies between them both, including in metallurgy, finance and other sectors.
The Honorary Consul of Kazakhstan in Luxembourg, and CEO of Eurasian Resources Group (ERG), Benedikt Sobotka, talked about Kazakhstan and Luxembourg being different in size but common in being friends and also addressing economic problems together. He said that next week, they will be celebrating the 25th anniversary of ERG's activities in Kazakhstan and 5 years of ERG's headquarters being operated from Luxembourg. He thanked the Ambassador and concluded by stating that, next year, several events will be held to promote Kazakhstan as a tourism and business destination, and he also mentioned about exploring the possibility of direct flights between the two countries.
The evening continued with musical entertainment, including a trio performing traditional music on traditional instruments while dressed in traditional costume: all three work for ERG in Kazakhstan. The Artel Quartet performed and the guests were treated to a buffet of traditional Kazakh dishes, both hot and cold, as well as European cuisine.