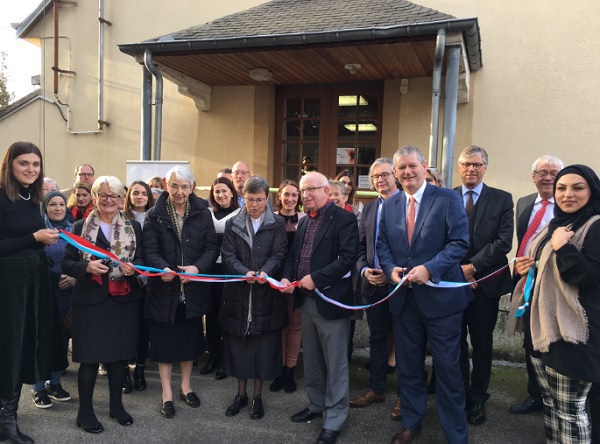 Credit: Caritas Luxembourg
Caritas Luxembourg today inaugurated a house for refugee and migrant women in Heisdorf.
The inauguration of the house, named "Le Temps des Femmes" ("The Time of Women"), took place in the presence of the Franciscan Sisters of Mercy, the Sisters of the Christian Doctrine, the EASE company and other donors who have supported the initiative. Also present were Marco Schank and the mayor of Steinsel, Jean-Pierre Klein, who hosts the house in his commune, along with volunteers and refugee and migrant women who have already arrived at the house.
The project is the result of observations made by Caritas Luxembourg following the interviews conducted during its social consultations, as well as testimonies from its social workers in the shelters, that refugee and migrant women are a vulnerable group that deserves special attention, whether they are alone, alone with children or with their families. Indeed, many of these women have experienced serious violence during their journey to Europe, because of war, armed conflict or insecurity. Some of them find themselves alone and unprepared in a foreign country and most have lost the family and social ties they had and now live in isolation.
In order to enable these women to leave their homes and meet around different activities, Caritas Luxembourg decided to open "The Time of Women" house in Heisdorf. The house is reserved for refugee and migrant women. Accompanied by a professional and volunteers, these women from all backgrounds and social levels can share their specific concerns as women and mothers here. The role of Caritas Luxembourg will be to listen to them, make them aware of their skills, guide them in their learning and personal and professional development and build bridges to the institutions that could best help them as they become integrated in Luxembourgish society.
Marie-Josée Jacobs, President of Caritas Luxembourg, stated at the opening: "It's all about showing them that they're not alone".