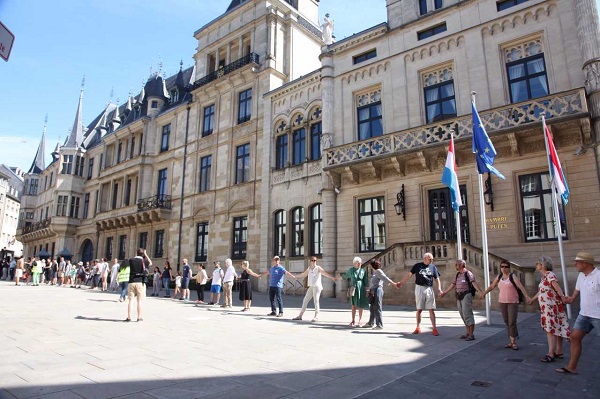 On Saturday 8 July 2017, the Luxembourg asbl Association de Soutien aux Travailleurs Immigrés (ASTI) organised the formation of a large human chain to show solidarity with asylum seekers.
ASTI formed the chain for a number of reasons, namely to show their pledge for openness and solidarity with refugees, their integration into society, and the refusal to allow xenophobic and racist discourse dominate the country or spread fear.
The human chain was symbolic of the Luxembourg population's willingness to meet refugees, teach them their languages, organise sporting and cultural activities with them, and help them to find a job.
Indeed, ASTI has referred to this gesture as a signal to refugees and immigrants that they are welcome and that xenophobia does not represent Luxembourg.
For the next step, ASTI has proposed that the government commit to further integration of refugees. Their proposals include the respect of the procedural period of 6 months be respected, as outlined in the Asylum Act, that access to the labour market is facilitated for asylum seekers, that the government invest in a housing policy that creates sufficient affordable housing for all residents, and that a coherent integration policy be drawn up for better understanding between all of communities in Luxembourg.