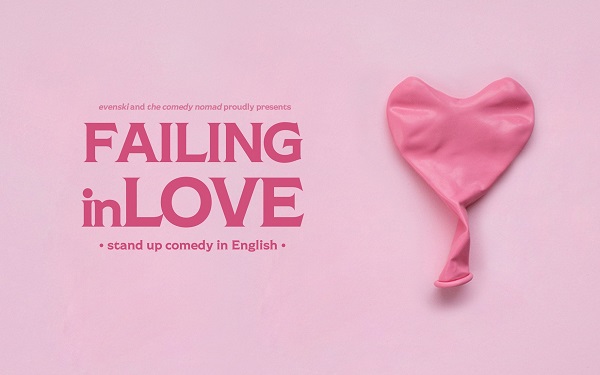 Evenski and the Comedy Nomad have announced two English-language comedy shows taking place in Luxembourg this month.
Romanian comedian Victor Pãtrãşcan and his friends will perform "Failing in Love", a stand-up comedy show about failures in relationships and love, at Centre Culturel Altrimenti in Luxembourg-Ville on Friday 17 February 2023 at 20:00 and on Saturday 18 February 2023 at 17:30. Tickets are available online at https://fienta.com/failing-in-love-luxembourg.
In the same venue at 20:00 on Saturday 18 February 2023, Radu Isac will join Victor Pãtrãşcan on stage to perform "Cancel Culture", a show that, according to the organisers, is "not for the easily offended". Tickets are available online at https://fienta.com/cancel-culture-comedy-luxembourg-18feb.
Victor Pãtrãşcan has been described as a Romania-born pretentious stand-up comedian and outrageous social commentator. He started performing stand-up comedy in 2012. Since April 2021, he has been touring his show "The Dirty Immigrant" throughout Europe. In 2019 and 2020, he travelled through Europe with his show "The Trouble with Being Born Romanian".
The organisers described Radu Isac as a young but veteran Romanian comedian. He moved to London in 2015 and in 2017, made it to the final of the "English Comedian of the Year" competition. His stand-up has been featured on multiple BBC and Comedy Central programmes and he has opened for the likes of Louie CK and Jim Gaffigan.