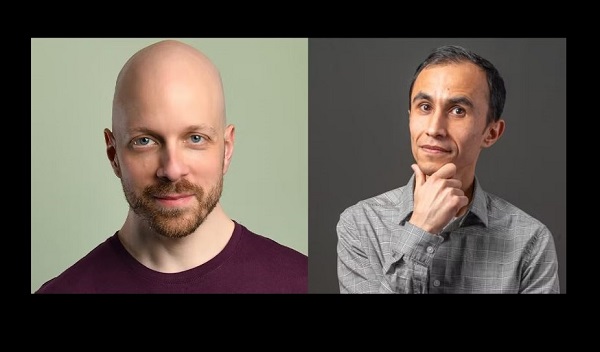 L-R: Luca Cupani; Ulug Bek; Credit: Luxembourg Comedy
Luxembourg Comedy, Joe Eagan Comedy Productions and InternationalComedians.com have announced that the next edition of their English-language comedy showcase will take place at the Marionnette (15 Rue de Strasbourg) in Luxembourg-Gare on Wednesday 21 September 2022 at 20:00.
Italian comedian Luca Cupani will headline this month's comedy showcase, with the support of Ulug Bek (Uzbekistan). Guest act Peter Luebken (Germany) will also take the stage. The show, hosted by Joe Eagan (Canada), will be entirely in English.
When arriving on the London comedy scene, Luca Cupani performed his first stand-up set at the Gong Show at the Comedy Store – and won. This set him off on his path to winning the So You Think You're Funny? competition in Edinburgh in 2015. Luca appeared at the Just For Laughs Festival in Montreal, before bringing his show "The Admin of Death and Other Confessions" to the Free Fringe – for which he received 4 stars in The Scotsman. He has taken part in the Seattle and San Francisco International Comedy Competitions. In 2017, he took a new show, "It's Me!", to the Edinburgh Fringe, which subsequently had a sell-out run at the Bill Murray in London. In 2018, Luca returned to the Edinburgh Fringe with "God Digger" and again in 2019 with "Lives I've Never Lived". He has been a regular guest on the Italian TV show Zelig Time.
Ulug Bek makes people laugh with his deadpan comedy, clean humour and skills in Microsoft Excel. He has successfully performed in different countries and festivals with his show "Please Step Aside". He lives in Europe because he appreciates the Western values, culture and a European Union (EU) passport. Mostly the latter. Having lived and studied in the Netherlands, Sweden and Denmark, he will touch on his humorous observations about integrating into local society as an expat.
The show starts at 20:00, but attendees may arrive at the venue earlier to eat some pizza beforehand. To reserve a table to eat, call tel.: 481-217. If eating, it is recommend to book a table for 19:15 at the latest to get food orders in before the show.
Earlybird tickets cost €18 (only 30 tickets available), whilst regular tickets purchased in advance cost €20: https://billetto.eu/en/e/wed-sept-21-luxembourg-comedy-showcase-in-english-tickets-689576. A two-person special ticket is available for €38. Tickets at the door cost €25 per person (cash only).
The show is open for anyone to attend. Anyone who purchases a ticket but is unable to attend due to illness can use their ticket to attend the next show, on Thursday 13 October 2022.