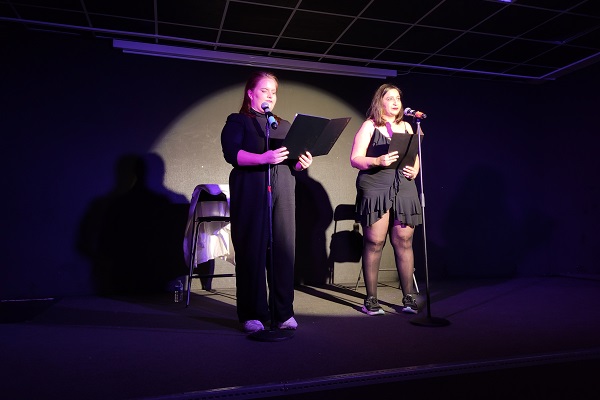 Mari Volar (left) and Anshita Koul (right) present their grievances against the patriarchy during The Clitoris Act; Credit: Jazmin Campbell
Chronicle.lu got the opportunity to sit in on The Clitoris Act, the closing event of Luxembourg's new women-centric, English-language comedy festival Festrogen, at Théâtre Le 10 in Neudorf-Weimershof on Sunday evening.
About 50 people attended this sold-out, two-woman theatrical comedy show created and performed by Mari Volar and Anshita Koul, the comedy duo behind the Cologne-based Clit Comedy Club collective.
The evening's host was Luxembourg-based British comedian Jess Bauldry, who first thanked the festival partners before warming up the audience with jokes about relationships, being childfree, and Brexit.
Anshita Koul and Mari Volar then took the stage, bouncing off each other and drawing from their own experiences as they touched on the topical issues of misogyny and sexism, racism, sex and sexuality, the biological clock, body positivity (or at least "body neutrality") and taking up space as 30-something-year-old cis women who unashamedly fail to live up to society's unrealistic beauty standards. The show, which also featured a surprise costume change and energetic dancing, concluded with the two women presenting a list of grievances against the patriarchy. Anshita, who is originally from India, and Mari, originally from Estonia, had the audience laughing and clapping throughout the evening with their raw, at times self-deprecating yet empowering humour.
The performance received a standing ovation from the enthusiastic crowd, which was made up of people of different ages, genders and nationalities – several of whom had attended one (or both) of the previous sold-out festival shows and / or the workshops organised as part of this year's Festrogen.
Performed for the first time outside Germany, The Clitoris Act closed the inaugural Festrogen comedy festival, which took place last weekend and featured a series of workshops for women interested in stand-up comedy as well as two other shows: 50 Ways to Leave Your Employer, a two-woman show featuring Brits abroad Jess Bauldry and Sharon VS (on Friday) and Bestrogen of the Festrogen, a comedy gala headlined by Germany-based US comedian Erin Crouch (on Saturday). On Sunday evening, the organisers confirmed plans to host a new edition of this women-centric comedy festival next year (details to be confirmed).