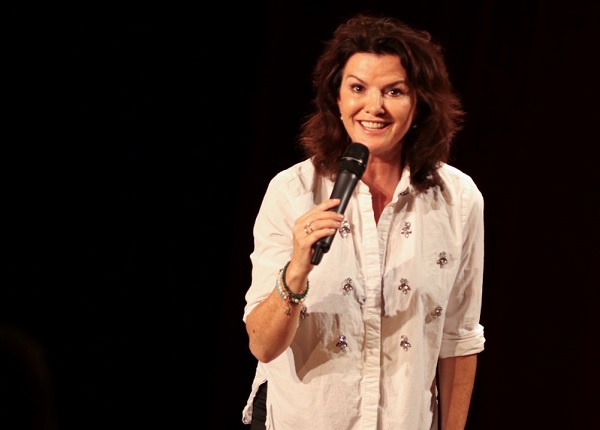 Deirdre O'Kane at the Altrimenti cultural centre; Credit: Ali Sahib
Irish stand-up comedian Deirdre O'Kane is currently in Luxembourg for two performances of her new stand-up show "A Line of O'Kane" at the Altrimenti cultural centre in Luxembourg-ville.
The opening show on Friday evening marked the comedian and actress' first show in Luxembourg, as well as the first time this new show has been performed outside of Ireland and the UK.
Indeed, it was a full house on Friday with the room erupting in laughter from start to finish as Deirdre recounted her tumultuous and often hilarious journey as a contestant on last year's "Dancing with the Stars". Delving behind the scenes, beyond the glitz, glam and fake smiles, "A Line of O'Kane" deals with the Drogheda native's experience competing with celebrities (or relatives of celebrities) half her age, learning the "Vietnamese waltz", getting anti-inflammatory injections and being brought to tears by a Russian-Estonian professional dancer.
Be prepared for lots of good old Irish swearing, Irish and British TV and music references (and impersonations), jokes about turning 50 (and the role of oestrogen and collagen in making a woman's life hell) and family dynamics (i.e. raising teenagers and the Oedipus complex). Whilst those who are familiar with "Dancing with the Stars" and Deirdre's work might get a few extra laughs, "A Line of O'Kane" is funny even for people who are unfamiliar with Irish TV personalities - there's even a few Luxembourg-related jokes thrown into the mix!
Just ahead of the show, support act Deepu Dileepan, an Indian comedian living in Luxembourg, got the audience warmed up with jokes touching on racism, multiculturalism and life in the Grand Duchy.
Deirdre O'Kane will be performing again on Saturday evening at 19:30 at the Altrimenti cultural centre (5 Avenue Marie Thérèse, L-2132 Luxembourg). Tickets cost €20 and a few are still available at the door (cash payments only).
The event is organised by the Irish Club of Luxembourg and Comhaltas Ceoltórí Éireann Luxembourg, who together previously organised the successful "Tom Crean, Antarctic Explorer" production, in collaboration with Outlaw Management.