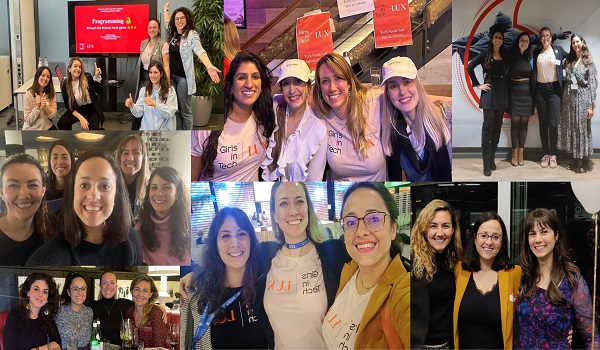 Credit: Girls in Tech Luxembourg
Chronicle.lu recently had the opportunity to speak with Managing Director Vasiliki Moschou and Event Production Manager Patricia Souza about Girls in Tech Luxembourg, the local chapter of a global non-profit organisation that aims to tackle gender inequality in the tech industry by supporting and empowering women.
Chronicle.lu: Going back to the beginning, what inspired you, Vasiliki Moschou, to (co)found the Girls in Tech Luxembourg chapter in 2022? How did you find out about the Girls in Tech non-profit organisation and why did its mission/aim seem important for Luxembourg, in your opinion?
Vasiliki Moschou: Over the last years, I have participated in multiple workshops from organisations aiming to support women in business and tech. There is still a lot of bias everywhere and being a woman in a male-dominated work field, it's challenging from day one. You always have to prove yourself, study more, work more, do more and more. I first joined a Girls in Tech event in Greece and got very inspired by their enthusiasm and from the feeling that stayed with me afterward, that I am in a safe environment, where I can express my thoughts, and doubts, without fearing of being criticised.
My wish to run this chapter was born from my own beliefs, my own fear of self-doubting or even being too shy to communicate my achievements to friends and colleagues. Living in Luxembourg for almost six years made me find the perfect opportunity of starting the chapter here.
My vision for Girls in Tech Luxembourg is first of all to deeply understand the needs of the Luxembourgish community and how we can work together to achieve better results. I would really like to support the women entrepreneurs, to create initiatives for introducing coding to young girls and women, helping expats and locals with workshops and helping students and career changers find the right professional path. And last but not least, to include more men in this effort. We are called Girls in Tech, but we need men to serve this purpose too. We must all be aligned and on the same page for gender equality and equity. Then we will be one step closer to success.
Chronicle.lu: Do you receive much guidance or support from the wider Girls in Tech network? Is each chapter free to run things as they like, based on local demand/needs? Are there many joint events or meetings between the various local chapters?
Vasiliki Moschou: We receive full support by the wider Girls in Tech network from day one! There is a full structure on the guidelines we follow with regard to communication, branding and material to facilitate our workshops. The Girls in Tech global team is always there to support us whenever we need and we really appreciate that! We also have an internal network where we can communicate with other chapters across the world, exchange our experience and tips whenever needed for better support. There are also many occasions where we have the chance to meet in person every year, like summer retreats and of course the Girls in Tech Conference which will also come to Europe in 2024!
On the other side, we are a registered ASBL here in Luxembourg, which gives us full autonomy to make our own partnerships and run our own initiatives and workshops, which are formed to fit the Luxembourgish community, respecting always the general scope of the Girls in Tech.
Chronicle.lu: Approximately how many events does Girls in Tech Luxembourg (co)organise/ participate in per year? Do you often team up with fellow local (women's) organisations, as was the case for this year's International Women's Day networking event?
Vasiliki Moschou & Patricia Souza: We do not yet have an average [per] year, considering that we are a young chapter that has been launched in June 2022. However, last year we already organised four events and supported another event from a fellow organisation (50inTech). This year, so far we already had five events and we are already planning six more until the end of the year. We are also starting a six-month mentorship programme in partnership with Goodyear Wingfoot Women and KnowThyBrand Women where we will select a limited number of mentees from Luxembourg and the Greater Region to get guidance, advice and support from mentors, that will help them develop skills, achieve their goals and progress in their career.
Following the vision of Girls in Tech global, we aim to organise at least one event per quarter, but our goal is to keep as many events as needed to create enough community engagement with our target groups (children, teenagers, young females and experienced professionals). We believe in the power of community and women-empowering-women and we have been lucky enough to team up with other great organisations that have also been supporting us throughout this journey (such as IncoAcademy, KnowThyBrand, LUX WMN, The NETWORK and all the organisations that were with us celebrating International Women's Day this year).
Chronicle.lu: Girls in Tech Luxembourg organised a couple of other events last month. What were these about? And how do you/your team decide what type of event to organise?
Patricia Souza: Indeed, we had some very busy months. End of February we held a workshop and networking event at PwC Luxembourg with some tips on how to network, delivered by the inspiring Giulia Iannucci, focusing on young female professionals and/or shy/introverted individuals. On 8 March, we celebrated International Women's Day alongside five other organisations that promote gender inclusion. We were also invited to present at a bootcamp from INCO Academy some of our experiences as women in tech, at the beautiful Vodafone's premises and at the National Jonk Fuerscher Contest, we held two workshops for teenagers on Python and Tokens & Cryptocurrencies. We also had a presence at the FJSL [Fondation Jeunes Scientifiques Luxembourg] open doors day where we interacted with teenagers and adults, through cryptography games.
Our decision-making process is fairly simple: we assess the event and the relation with our goals and, during our board member monthly meeting, we proceed with a go/no-go decision considering those criteria: volunteering/effort capacity available, budget needed/available, time needed/enough time to prepare.
Chronicle.lu: What other tools or programmes do you offer members (workshops, bootcamps, etc.)? What can you tell us about the AMPLIFY Startup Pitch Competition?
Vasiliki Moschou & Patricia Souza: The Amplify Startup Pitch Competition is an annual event organised by Girls in Tech as a whole. The competition is open to female-led startups from around the world and provides them with an opportunity to pitch their business ideas to a panel of judges composed of industry experts, investors and successful entrepreneurs. The winners of the Amplify Startup Pitch Competition receive a cash prize, along with access to a global network of investors, mentors and industry experts. The competition is a part of Girls in Tech's broader mission to support and promote gender diversity and inclusion in the tech industry.
Moreover, we cover a variety of activities, such as networking events, technical workshops, bootcamps, webinars, mentorship programmes, panel events with experts invited to speak on a specific topic, master classes and startup challenges as mentioned above. We also have in our agenda for 2024 to organise a hackathon. We are increasing the programmes with our team's growth.
Chronicle.lu: What feedback have you received and how has membership, participation, etc. evolved since the 2022 launch?
Vasiliki Moschou: In the past three months, we grew from 20 to an average of 150 followers per month, which indicates the growth of the chapter and our team. We currently have 200 subscribers staying up to date with all our activities and 570 followers on LinkedIn that came only from our organic growth over the past ten months.
Within only one year, we have managed to create our own network and a strong presence in Luxembourg. It's really rewarding meeting with people that keep attending and supporting our events. This makes our chapter more sustainable and powerful.
Our internal team has also grown since the beginning of 2023: fifteen volunteers have joined our team, contributing with their own skills to the responsibilities of the chapter. Our advisory board team is comprised of five members, where there is respect and transparency across all the topics, and everyone manages their own area of expertise, with autonomy and trust.
I also love how much we have connected as a group. We all come from a different background, techies and not, with various experiences, and this brings a lot of balance in the team. Everyone's opinion matters and we all aim to create something powerful that will indeed help the women and underrepresented groups to make the next step and achieve their goals without fear.
Chronicle.lu: What is your vision/goal for Girls in Tech Luxembourg for the first five years?
Vasiliki Moschou: Our goal for the next years is to create a more engaged community around tech, with both experts but also newbies who are looking for learning opportunities, no matter the stage of their career. We also target to expand our volunteers' team to increase our capacity and find more sponsorships that will help us facilitate more events within every year. We aim as well on building steady partnerships across the full Benelux area by bringing more workshops for all kinds of levels, on both soft and hard skills. Among all the above, we constantly aim to bring awareness about the psychological safety in the work environment, increase diversity and tackle unconscious bias starting always from ourselves, and then helping the others well.
Chronicle.lu: Last but not least, are there any plans to celebrate your first anniversary this year?
Vasiliki Moschou & Patricia Souza: We do have! We will be releasing more details soon but save the date for a nice event in mid June!