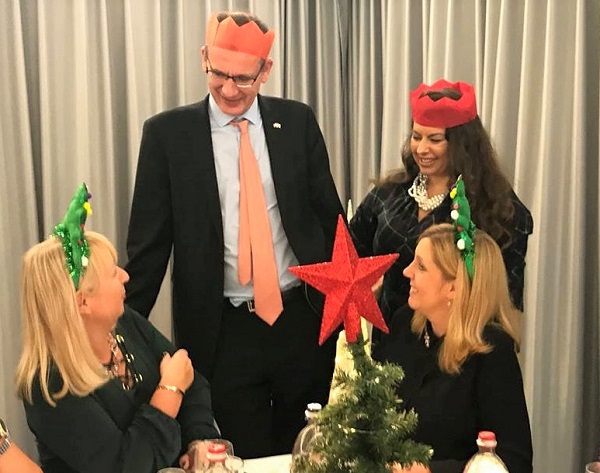 BLC Christmas Lunch 2018;
The British Ladies Club (BLC) held their Annual Christmas Lunch, one of the highlights in the club's events calendar, last Friday 30 November: the 49th annual Christmas Lunch marked a great way to kick-start the festive season for the club.
Nearly 80 members enjoyed a delicious meal at Alvisse Park Hotel in Dommeldange in a spacious room decorated nicely by Josephine Desvaux De Marigny-Ollivry and Sofia Kaiser, BLC's Events Managers.
Lunch included a crémant reception, Christmas market shopping and a sumptuous three-course traditional British Christmas lunch with plenty of wine, Christmas crackers and mince pies, which were brought all the way from the UK by the BLC Treasurer, Clare Jenner. Guests also enjoyed some great entertainment from the Christmas Tree Singers and sang collectively the beautiful carols selected beforehand.
Two special guests enhanced the traditional Christmas lunch with their presence: the British Ambassador to Luxembourg, John Marshall, and Shirley Feider, the President of Association for Rare Diseases in Luxembourg (ALAN).
Ambassador Marshall toured the market and visited the stands, greeting the entrepreneurial BLC members. Then the Chair of the BLC, Jugera Ibrahimi, made the opening remarks and left the floor to Ambassador Marshall who, among other things, talked about the #LuxUKLinks book of which he is the author, and he also mentioned the BLC as one of the links between Luxembourg and the UK. The President of ALAN, Mrs. Feider, then addressed the members, stating how happy she was to attend lunch and celebrate with everyone.
Because of the generosity of the BLC's sponsors who donated to the raffle as well as the guests, who purchased tickets, €720 was raised in support of the BLC's chosen charities, ALAN in Luxembourg and Helen and Douglas House in the UK. The sponsors included the Alvisse Park Hotel, Home from Home, EireLux, Stefania at Home Spa, The Party Ville, Lucy Goosey Books, Ana Healing Herbs, All About You, Josephine Desvaux De Marigny-Ollivry jewellery, and Mary Rose de Vries scarves.
The BLC Traditional Christmas lunch brought together many club members who sat, laughed and relaxed in a joyous atmosphere.