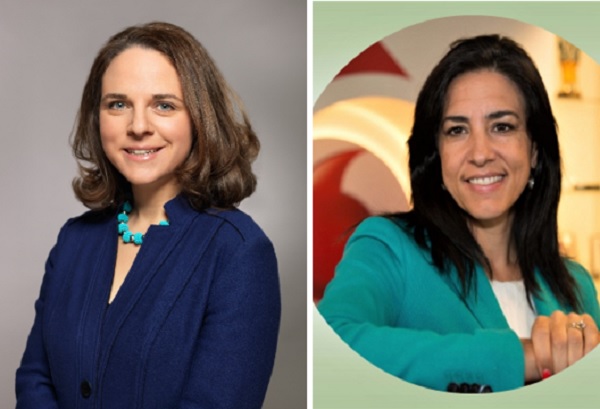 (L-R): Corrine Cahen; Sonia Hernandez;
On Wednesday 14 March 2018 at 19:00, the British Ladies Club (BLC) of Luxembourg is hosting their monthly Professional and Entrepreneurial Women event at the Doubletree by Hilton in Luxembourg-Dommeldange.
This is a special event for the club, explained Chair Jugera Ibrahimi, as it brings together two very successful women: Corinne Cahen, Minister for Family Affairs and Integration Minister for the Greater Region and Sonia Hernández, Director of Global Supply Chain Commercial & Services at Vodafone Procurement Company in Luxembourg.
"We expect the event to bring many interesting questions from the audience to both of our panellists representing women in government and business respectively. But just as important for the attendees, is identifying those similar, yet unique features that make both women so successful in their career and life. I am definitely very excited about this event, and so are the rest of our members" explained Jugera.
Corinne Cahen
Corinne Cahen pursued higher education studies at the Université des sciences humaines de Strasbourg from 1992 to 1995, where she was awarded a degree in applied foreign languages (specialised translation). She then studied at the Université Nice Sophia Antipolis from 1995 to 1996, where she was awarded a master's degree in applied foreign languages, business and commerce section. She completed her higher education with a DESS (post-graduate diploma of specialised studies) in bilingual French-English journalism from the Université Sorbonne nouvelle – Paris 3 in 1997.
Following the legislative elections of 20 October 2013, Corinne Cahen was elected to Parliament. She joined the government as Minister for Family Affairs and Integration.
Since November 2015, Corinne Cahen has assumed the role of chairwoman of the DP.
As part of her studies, Corinne Cahen gained professional experience in the field of journalism, particularly with RTL Hei Elei Kuck Elei (now RTL Télé Lëtzebuerg), Eldoradio, Radio régionale Nice-Côte d'Azur, Radio France Internationale and Agence France Presse.
From 1995 to 2001, she worked for RTL Radio Lëtzebuerg, initially as a correspondent in France for current political, economic, legal and sports affairs, then as a political, economic and legal presenter and reporter in Luxembourg.
From 2001 to 2004, she worked as a freelance journalist for RTL Radio and Télé Lëtzebuerg.
Manager of a shoe shop in Luxembourg City from 2001 to 2013, Corinne Cahen chaired the Commercial Union of Luxembourg City from 2008 to 2012 and was an elected member of the Chamber of Commerce from 2009 to 2013.
Sonia Hernández
Sonia graduated as an electrical engineer in Madrid in 1996 with a final thesis done in microelectronics at the Technical University of Darmstadt/Germany. She has over 20 years of international experience in the telecommunication industry and speaks 5 languages. Sonia started her career in Sales at Siemens, based in Munich, selling Mobile Networks in telecommunication operators in Latin America. After 11 years of her career in Sales which took her to live in Brazil, Italy and Spain, Sonia decided to move to Human Resources and became responsible for the Centre of Competence for Recruitment, Talent Management, Leadership and Organizational Development for Europe & Africa.
Sonia joined Vodafone Procurement Company in 2012 as head of Global Procurement Access Technology. She was promoted to Director of Global Supply Chain Commercial & Services in August 2015 and Board member of Vodafone Procurement Company in Luxembourg. In July 2016 she was also appointed as Board member of Kabel Deutschland Holding AG and of the Supervisory Board of Vodafone Germany GmbH.
Sonia has lived in Luxembourg with her husband and two children since April 2016.
Free to attend; to register, contact email: chair@blc.lu​​